Browsing articles in "Social media"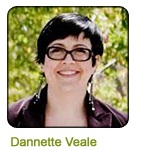 Last week, I spoke with Dannette Veale of Cisco regarding how Cisco is leverainge virtual and new technologies for their events and conferences. This week, Dannette shares her predictions for 2011.
It's the time of year for 2011 predictions. What do you see in store for the industry in 2011 and which technology(ies) do you think will gain popularity?
I see mobility as being the big one and will start looking at that. We leveraged Ustream last year and have a lot of interest with the mobile app for Ustream iPhone. I also think that with the onset of tablets and number of tablets being put out by Samsung and Apple, we will see a huge amount of event tools and experience extended out to mobile, especially tablets.  We will see people go beyond the provider mobile applications and opt for white label applications for mobile to create a push-pull opportunity.
For example, download a hypothetical Cisco Live mobile app that will notify the user of updates to content, new contests and upcoming live events they can watch via their mobile device. This type of mobile application could be leveraged as an audience acquisition tool. If I'm not reaching you via the event web site, direct email or social media, but you've downloaded my app, then those individuals will be notified of updates. They are invested as they downloaded the app already. This will be a key way to distribute live video for hybrid events.
I also see mobile for event management taking off tenfold – the ability to monitor traffic to various areas with physical security reading back to data analytic tool, 40% of audience in auditorium or 60% in tradeshow floor, is a powerful tool for an event operations team. From an event management perspective, you'll have real-time results for key surveys on key session and prize notifications on basic level, etc.
I see mobile becoming an intrinsic tool that event managemers will really be able to leverage to manage the event and do that analysis. It simply makes them more nimble.
The unconference will be realized as well, and mobile can help with this. You can watch the video,  translate and ease the conference experience with maps on their device. Add to this a way to heat map where the traffic levels are, extending this function to your buddies and contacts, you can enhance the virtual experience or promote friending at a physical event itself.  You're able to see when people are online or physically at a specific location.  In a large conference where there are many people, you can only send a small group of people to the event and the social gatherings are around their co-workers for dinner and other activities. The social mobile tools now give them the access to make and find connections.
The event experience will increase as a whole.
Dannette Veale's Bio
As the virtual and social technology strategist for Cisco's Global Sales Experience (GSX), Dannette Veale lives and breathes new media. Prior to her role on the GSX team Dannette lead the creation and drove the strategy for the award winning Cisco Live and Networkers virtual program. Dannette has also managed global online and virtual programs for a variety of Cisco groups; most notably emerging markets. When she's not evangelizing the use of virtual environments to extend the reach of an event and broaden the overall audience demographic participating, you'll find Dannette engaged in such varied hobbies as producing streaming media, designing Web sites, or watching classic films such as Blade Runner. Outside of her daily immersion in the bleeding edge of collaborative media, Dannette's also been known to partake in such real world activities as gardening, baking, and knitting;while watching cyberpunk anime, of course.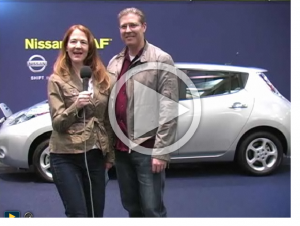 My husband and I are huge electric car enthusiasts, but not as much as our friends Amy and Andrew. I was curious when they asked me to vote for their video for a chance to win a Nissan Leaf (click on the image to the left to launch their video). I personally think their video is great =) and a great way for Nissan to drive interest in their first generation Leaf.
The contest rules are pretty straightforward: Schedule a time to test drive the Lead, record a video and promote it to friends and family for votes. A winner is selected from the various regions, with one winning the grand prize – a quiet car that will sneak upon you with no warning.
While this is a great way to drive people to the event, grow its list of prospective buyers, increase engagement, and spread the word, here are my recommendations to make this an event better contest.
1) You can share the video via Twitter, Facebook and email, but there was no way to embed the video to blogs and websites. Hence, why I did a screen capture and link to the video.
2) While the link takes you to a single videos, there is no video gallery to view entries from a single event. By having a centralized gallery, Nissan could leverage it's marketing weight to segment email lists and encourage people to vote for the best video. This could also drive interest in the contest itself. Instead, the contest depends on individuals to spread the word.
3) I'm actually on the Nissan Leaf mailing list and received emails about the Nissan Test Drive tour. But I had not heard about this contest until the email from my friends, who had scheduled a test drive. My assumption is that the contest wasn't well integrated with the other marketing channels for the Leaf – email marketing, PR (first person who received a Leaf in the Bay Area made the local news), etc. Bringing these channels together could provide Nissan with great word-of-mouth, especially as this first generation of electric cars roll out.
What do you think? And don't forget, Vote for Amy and Andrew now! I want to be the first to ride in the car!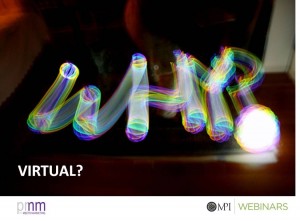 I recently presented a webinar on "Dispelling the 5 Myths of Going Virtual." My presentation slides are included below and an archived version of the webinar will be available on the MPI website shortly. Free to MPI webinars, the on-demand will be available for $20.  The webinar covered these top myths, accompanying case studies and relevant industry stats:
1. Virtual Will Cannibalize My Audience: Case study of American Payroll Association
2. Virtual Will Cannibalize My Exhibitors/Sponsors: Case study of GE Healthcare
3. Co$t$ Too Much: Case study of IMTS
4. Only for the Technically Savvy: Look at technology pace of technology adoption
5. Not as Good as F2F: Case study of CiscoLive Virtual
6. BONUS Myth: No One is Doing It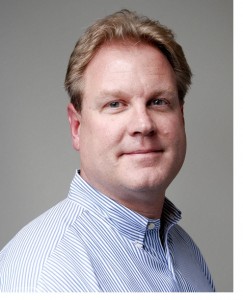 I belong to several groups in LinkedIn and came across a case study regarding the use of social media to increase membership to a LinkedIn group, which then drove conference attendance. I interviewed Bob Etheridge, social media aficionado, to learn more about his experience.
Bob Etheridge's background has been primarily in the online recruitment and job board industry. In 1999, he co-founded JobCircle.com, a regional job board in Philadelphia and 2003,  started a physical Job Fair division for the company, thus entering the event production and  marketing world. The economic downturn and lack of hiring had a large impact on the business, so in May, they took their event production experience and created a B to B conference called Social Media Plus, capitalizing on the growth and interest in Social Media. Bob can be reached at [email protected].
1) We both belong to the same LinkedIn Group and you mentioned how you increased membership to a group you were managing for a conference. Can you provide an overview of what you did?
Yes, creating a Linkedin Group is easy enough, inviting your first degree connections to join the group is also relatively easy.  However, growing your group quickly after that becomes a challenge.
November 21, 2022 – Per Bob's request, I have replaced the previous text with the below two paragraphs:
We utilized a service called Community Leadership offered by a company called Network Sunday. Network Sunday has virtual assistants that can help you with your Social Media marketing outreach. Network Sunday works with business development  and conference marketing professionals to leverage Linkedin to help grow communities, create awareness and build personal and professional brand.
By joining relevant, Industry specific Linkedin groups using the Advanced People Search engine on Linkedin, we created a targeted list of members who would most likely be interested in learning about Social Media and networking with other Social Media Marketing professionals. We then invited these people, through Linkedin, to join the Social Media Plus Conference group using a simple, straight forward message. The campaign lasted for approximately 2 months before the conference.
2) Besides LinkedIn, did you use any other marketing and social media tactics? If so, how did you leverage these tactics for driving attendance. 
Yes, we created a Facebook page and a Twitter account for the event. While Twitter was a great tool for communication during and after the conference with our #SMPlus hashtag, neither produced significant results in driving attendees.
3) What was the result of your efforts?
The response was phenomenal. In 2 months, our Conference group grew from 50 members to around 1800 and over 700 people attended the conference.  We did some traditional marketing such as direct mail and e-mail marketing, but Linkedin was the most effective marketing tool by far. We tracked the click through bit.ly URL's, measuring the use of unique coupon codes that we offered and by comparing the final attendee list to our Linkedin Group members. 450 attendees had joined the Social Media Plus Linkedin group prior to the conference. (Disclaimer – Bob was so impressed with the results that Network Sunday provided, he is now the US Partner helping other conference organizers in their Marketing efforts).
4) What three tips would you provide to those seeking to use social media to promote their conference?
 1) Social Media Marketing is a two way street. Be prepared to spend time communicating directly with your audience.
2) Don't over sell in your Marketing message. Less is more in this case. People want to explore and learn things on their own. If they have specific questions, they'll reach out to you.
3) Don't go it alone. Social Media Marketing can be time consuming and often companies start off with a bang, but burn out quickly. Social Media Marketing is a marathon, not a sprint.
I'm posting an updated version of a Social Media eBook I published a couple of years ago. The eBook is meant as a quick guide for getting started, addressing the following topics:
* Before you start
* Fish Where the Fish Are
* Developing Your Own Community
* Social Media Tools
* Measurement 
What have you found to work best for you?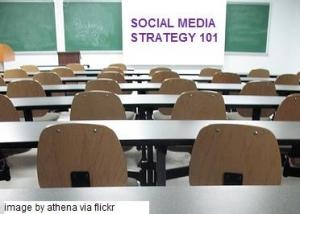 Most social media campaigns begin with a bang – you're excited, have a lot of passion and are regularly posting, tweeting and engaging your audience. If social media marketing isn't your full-time role, other priorities begin to take priority once this initial excitement dissipates.
Like your demand generation programs, the success of your social media marketing also depends on providing the right content to your audience at the right time during the sales cycle. Here are four quick ideas to keep your social media channels seeded with rich content:
Repurpose your content: Many companies have a huge reservoir of content ranging from product sheets to webinars, white papers and more. This content can be repurposed for your social media marketing efforts with minimal time and effort.
Editorial Calendar: Jumping into social media provides you the opportunity to publish content on your own timetable. To ensure that you stick to a schedule, map out an editorial calendar for the quarter looking at specific topics, guest authors, etc. to ensure that you have a rich funnel of content.
Interview Industry Experts: To vary the content and further position your company as an industry thought leader, interview industry experts and seed the interviews across your channels. You can do a quick video interview for YouTube, an email Q&A for your blog, or include profile in your email newsletter.
Invite Guest Bloggers: Creating all of this content is time consuming. Invite industry bloggers or peers to contribute a post to your blog. Make sure to set up some basic guidelines to ensure content is relevant to your audience. This alleviates your time constraints while provides content for your blog.
How do you keep your marketing and social media channels fresh with content?
Social Media Marketing 101 Posts
1. Social Media Strategy 101: Are You Ready?
2. Social Media Strategy 101: Definitions
3. Social Media Strategy 101: Which Persona Helps Tell Your Story?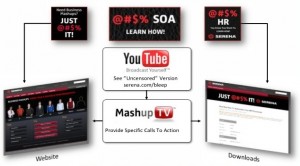 Rene Bonvanie, VP of Worldwide Marketing, Palo Alto Networks, presented on a viral video he created while with Serena Software.  The goal of the video was to increase the use of the company's mashup tools. Instead of creating a "standard" B2B video at the time, the company decided to adopt a more consumer-focused approach of using sex and innuendo.  In essence, they were seeking to create a strong emotional response to the video – either you hated or loved it. I've embedded the original video below.
Starting a Fire
"No long tail in social media. It happens or doesn't." – Rene Bonvanie
 While the video only cost $5,000 to develop, the challenge was generating the fire to start the buzz. The key considerations for Serena Software were:
* How to increase/enable social networking
* Have users push and syndicate the content rather than pushing it themselves
* Coordinated efforts with traditional media and advertising activities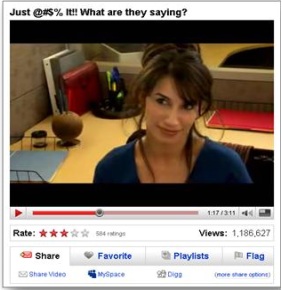 The company first created two versions of the video: a censored version for YouTube which linked to an uncensored version on the company's website. The company then leveraged traditional advertisements on targeted websites that played on the "censored" theme. As the ad campaign continued, media outlets began to pick up on the, at the time, unique campaign.
Simultaneously, the company built a video channel related to the original video. As the views increased for the viral video, other videos also saw an increase in views as a halo effect. 
Questions from the audience
Note: I tried to capture the questions and quote as fully as I could and is not meant to be a "transcript" of what was said. Questions are in purple with the response italicized.
Insights with global marketplace and how to adapt this? One of the things we found is that from a B2B perspective, the audience speak English for B2B.
What was the magic sauce for the video? Sex and innuendo.
Had you thought of anything else besides sex/innuendo? Did take out some of the sex and tried the office/Seinfeld humor. Thought it was done before and wouldn't go that well. Looked at consumer brands to see what they did and to combine those elements with office setting did well.
What was the impact on sales for the video? There were two ways to look at that. At the end of the day was to have people evaluate the software. Got $10 million in sales with $40 million in opportunities and 100,000 to conduct trials.
In conclusion, Bonanvie recommended caution when seeking to create such a video. You have to consider the creative, brand, comments from viewers, and related videos.
Other posts regarding MarketingProfs SocialTech 2010:
* Motorola Case Study to Use Social Media for B2B Event
About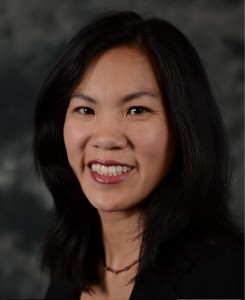 Cece Salomon-Lee is director of product marketing for Lanyon Solutions, Inc. and author of PR Meets Marketing, which explores the intersection of public relations, marketing, and social media.
This blog contains Cece's personal opinions and are not representative of her company's.
Marketing Blogs
Virtual Events & Meetings Blogs
Cisco Virtual Environments
Search Site