Crisis Communication – San Bruno Fire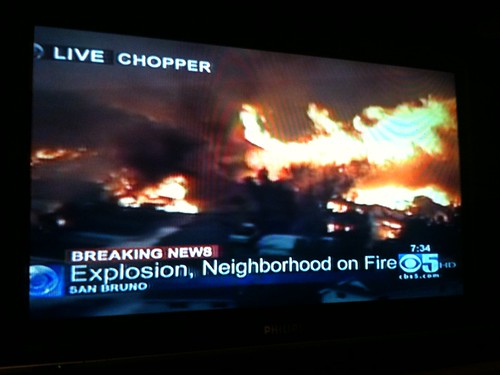 At approximately 6:15 pm, we now know a huge gas explosion occured in San Bruno.  First, please take a moment to send positive thoughts to the residents and families of the homeowners. If you live in the Bay Area and can give blood, they are requesting O-negative (assuming any and all blood types will be welcomed) and can find locations via the Blood Centers of the Pacific website.
Like the BP oil spill, the confusion around such an explosion is understandable. What perplexed me was an on-air phone interview with a PG&E spokesperson. When the reporter inquired if the gas line was PG&E's, the spokesperson purposely didn't answer the question.
Since crisis communications on this level isn't my core expertise, I'm interested in hearing your thoughts on how one would handle a situation like this.  Here are my initial thoughts:
1. Express Sympathy: The spokesperson did communicate that the company's thoughts were with the families of this tragedy. This was a good sign, demonstrating the company's empathy with the victims.
2. Answer the Questions: I recognize that PG&E may face legal action once everything is sorted out over the next few days. But by not answering a direct question regarding "was this a PG&E gas line?", PG&E seemed to be more concerned about evading responsibility. Maybe a better response would have been "At this time, our concern is with the families and we are working with the authorities to ensure that the immediate danger has passed."
Update (9/9/10, 10:19 pm): Per an email sent to news outlet (source: CBS 5 News), PG&E acknowledges that the gas pipeline was the company's and plans to take full responsibility if it's found to be the company's fault. Nothing on PG&E's website at this time.
3. Provide Valuable Information: In a 24/7 news cycle, news outlets are seeking to get information out as quickly as possible and companies are seeking to minimize potential risk. With that said, the interview seemed to be premature. The spokesperson didn't seem well-prepared and didn't provide tangible information. Rather, there was (still is) an opportunity for PG&E to discuss the steps they are taking to bring power back to the area.
4. Give Back to the Community: There is a great need for the families displaced by this crisis. While there needs to be a balance, PG&E can demonstrate its corporate care by donating to shelters, relief organizations, and supporting a blood drive amongst employees.
Again, thoughts are with the families and victims.
Update (9/10/10): Last night, the President of PG&E did a press conference around 11:30 pm at night. Unlike the spokesperson earlier, the president was prepped and repeated three messages: 1) ongoing investigation so cannot speculate, 2) working to make the area safe and 3) thoughts are with the families and if this is PG&E's responsibility, they will "make it right". While short on detail, these statements addressed my points above.