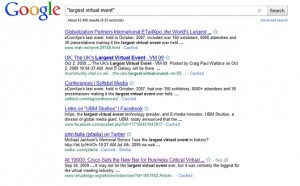 Many virtual events vendors and companies have touted that they have held the "largest" virtual event. Cisco GSX in 2009 with 19,000 attendees and AMD with 672,000 attendees in 2006 (Forrester Report, Market Overview: Virtual Event Platforms for B2B Marketers) are just a couple of examples. A quick search on the term "largest virtual event" yields over 40,000 results on Google – some referring to vendors with others referencing events.
But does size really matter?
While an important indicator of a platform's scalability, I think the focus on size overlooks other key factors when determing the value of virtual for your marketing and communications campaigns.
Metrics
The largest event may not necessarily yield the right results for your company. Many of the platform providers have detailed metrics regarding the number of attendees, length of stay, number of downloads and more. The challenge is how developed is their analytics engine to provide a layer of intelligence to interpret that data.
Questions to consider: What type of metrics are provided? What format are these metrics provided to me – excel data sheets or graphs? Are there lead scoring capabilities to identify A, B and C leads? If so, how does it work? Does the vendor help me to calculate ROI? A discussion on Focus, a resource for business professionals, provides more discussion about the ROI of virtual events.
User Engagement
Developing an experience that is unique to your company, ties back to your brand, and is engaging requires thoughtful planning. With hundreds and thousands of potential attendees, how do you structure the environment to intuitively create a flow within your virtual event. A critical element is mapping out how you want people to engage with one another, exhibitors and speakers within the event.
Questions to consider: Can I use a cookie cutter template or do I need something more custom? Will the vendor work with me or do I have to provide this? Do I have to use an agency in addition to the platform provider? How much time do I need to accomplish the desired experience? How do I create the right attendee flow within my virtual event?
Learning
The main component of any event is the content. Driving people to the virtual event is one aspect, while delivering content in a way that imparts learning is another element.
Questions to consider: Beyond how long somebody attends my event, what ways are there to measure short-term and long-term retention? Can you test or quiz the audience before, during and after an event? Will this cost more? What delivery method works best (video, audio, text, combo) and why?
Conclusion
While you host or build the largest event, a truly successful virtual event goes beyond size. It provides the right metrics with an engaging experience that delivers real learning to you audience.
What other factors are there to consider?
3 Comments
About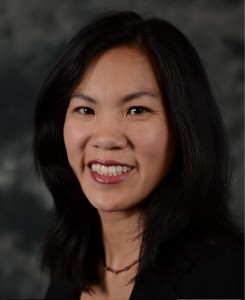 Cece Salomon-Lee is director of product marketing for Lanyon Solutions, Inc. and author of PR Meets Marketing, which explores the intersection of public relations, marketing, and social media.
This blog contains Cece's personal opinions and are not representative of her company's.
Marketing Blogs
Virtual Events & Meetings Blogs
Cisco Virtual Environments
Search Site