The early part of my career was focused on securing speaking opportunities for my clients. In the beginning, speakingopportunities was considered the step child of PR – something you had to include in the program but activity was (and to some degree is) relegated to the end of the month when you had to show progress to the client.
What I've learned is that speaking opps must be framed in the larger context of how can speaking and PR enhance a client's presence at the conference or tradeshow.  And from a marketing perspective, drive quality sales prospects to the booth.
There are many ways that PR can bring value to conference or tradeshow. Here are  my Five Ways that PR Enhances Events:
1. Leverage partners: If your client isn't participating at a tradeshow or conference, determine if a partner will be at the show. If so, consider approaching the partner about joint PR or maybe get access to the media list. The key is developing a pitch that benefits both you and the partner.
2. Sponsorship Package: Consider was level sponsorship your client has at a conference. Oftentimes a sponsor can negotiate access to the attendee list for pre or post show marketing. This can either be in email or direct mail campaigns. For start-ups and companies with smaller marketing departments, there is an opportunity for you to assist with copy writing or provide counsel on the type of information to share with this audience. Something valuable, such as a case study, white paper or webcast that will drive prospects to register for this information.
3. Value of tchokes tchotchke: As quality of sales prospects is key, you have to weigh the value of giving out tchokes tchotchke. As you're giving something away, you'll attract people who are interested in the freebie vs being truly interested in your tech or service.  However if you're giving something that is related to your company's products and services, such as a free trial, consulting time or other valuable information, you'll attract quality people. Update: Thanks to reader for the correct spelling of "tchotchke."
4. Speaking Opportunities: Speaking opps are great for driving awareness  and positioning your speaker as an industry expert at a show, especially if you have no booth. This requires dedication and working with the conference organizer over a period of several months. It's key to provie a session that is objective and contains valuable information.
5. Rethink the press kit: For a small company, the press kit may double as the "sales kit." As many attendees now carry usb or flash drives, reconsider putting together heavy kits. Maybe consider using Moo to create an unusual business that limks to an online press kit. You can include unique logins and passwords for each of your media meetings or just the URL with minimal copy to show attendees. For media, you track activity on the back end while having registration for show attendees to capture prospect information.
One book I'll recommend was written by Allison Saget, who I worked with on a previous client. She wrote a book titled The Event Marketing Handbook that quotes my former boss and myself.  Check it out to get a better sense of the value of tradeshows and conferences.
Let me know what you think and if you have any additional tips.
2 Comments
Additional comments powered byBackType
About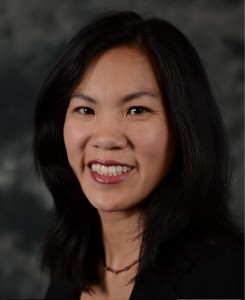 Cece Salomon-Lee is director of product marketing for Lanyon Solutions, Inc. and author of PR Meets Marketing, which explores the intersection of public relations, marketing, and social media.
This blog contains Cece's personal opinions and are not representative of her company's.
Marketing Blogs
Virtual Events & Meetings Blogs
Cisco Virtual Environments
Search Site