Previously, monitoring one's corporate reputation was much more difficult – you had to get physical copies of the articles and paste the articles onto paper. Yes – I've been in PR THAT long! LexisNexus then made the job easier with electronic clippings. Now, with blogs, Twitter, electronic archives of print articles and plethora of online communities, there is much much more to monitor.
Right now, the main way that I monitor my company's reputation is through RSS feeds of specific term searches via Google or Twitter search. So I was curious to try out Andy Beal's Trackur service. I signed up for the free 14 day trial and here's my take on this service.
General Search
Trackur is pretty simple to use. You enter in your search term, fill out a couple of other crtieria and bammo – you get results. Depending on the term, you may get a mix of results that you have to tweak. I tested the terms from Google to filter these results out, such as exact phrase or asking it not to include results with specific URL. Unfortunately, I seemed to get a mixed result.
I also didn't see any Twitter or LinkedIn results in the resutls. Interestingly, more results appeared when I searched for my personal online moniker "csalomonlee."(NOTE – if you see my full name, I'm usually responding as a company representative).
Once you've played around with the searches to get what you want, you can save that search, set it up as a RSS feed and start monitoring what's being said about your company. 
Power of Influence
One feature that I did like is the ability to determine the influence of a particular outlet, which is key in PR when thinking from a purely metric perspective. While I liked the idea of an influence ranking, I wasn't clear how this ranking worked.
I assume that a higher number indicated more influence. I looked at a couple of different sites and the corresponding influence rankings. I was confused by why some sites had higher numbers than others. If you see the below screenshots, gooruze.com had a higher number than my blog. The site had more blog mentions and had a registered traffic rank, but my ranking was only 5 below Gooruze's.
Conclusions: The Final Analysis
I think Trackur has the potential to be a useful tool for monitoring your online reputation. The cost per month is not outrageous and within reach of most individuals and corporations.
I would like to see some additional enhancements, such as keeping preferences for viewing search results (expanded or not) or providing thumbnail rollover explanations of the key elements within the tool. There are some nice touches like the ability to add notes to specific items, which is helpful when viewing your results over time, or the ability to view results in summary or abstract form. 
And note to Andy – you may want to update your video intro as Google does offer RSS feeds for searches =) 
Quick Overview:
Accuracy: 3.5 out of 5
Ease of Use: 5 out of 5
Cost: Won't break the bank
2 Comments
Additional comments powered byBackType
About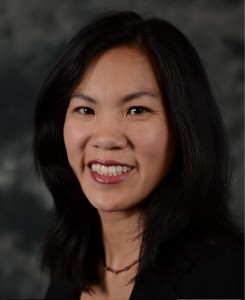 Cece Salomon-Lee is director of product marketing for Lanyon Solutions, Inc. and author of PR Meets Marketing, which explores the intersection of public relations, marketing, and social media.
This blog contains Cece's personal opinions and are not representative of her company's.
Marketing Blogs
Virtual Events & Meetings Blogs
Cisco Virtual Environments
Search Site