Browsing articles tagged with " virtual"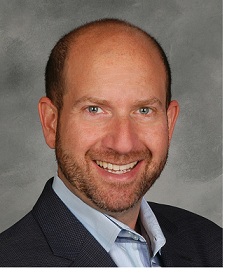 As part of the PRMM Interview series, I am interviewing thought leaders in PR, marketing, social media, and virtual events to hear about innovations, trends and technologies impacting our industry. This week, I asked virtual events vetaran, John Grosshandler is Director of Virtual Engagement with Maritz, to provide insight on the evolution of virtual events, challenges facing the industry and future trends. Here is a brief bio (Note: I was previously employed by Inxpo):
 In 2004, John launched a first of its kind virtual trade show called eComXpo which became the highest-grossing, longest-running virtual trade show ever held.  In 2005, after initially being their first customer, John joined InXpo, the virtual event platform provider that powered eComXpo.   While there, he was the Virtual Event Strategist on hundreds of virtual events for associations (e.g. HIMSS, National Association of Realtors), corporations (e.g. Cisco, ATT) and publishers (e.g. UBM, Ziff Davis).  While at InXpo, John authored the virtual event industry's first Best Practices Guide.  In his role at Maritz, John is responsible for their virtual event offerings, including supporting their channel partner Freeman.
Tell me a little bit about yourself and how you got into virtual events?
My background has been in sales and marketing roles for cutting edge technology solutions.  After a successful 8 year run at a software firm pre/during/post the tech bubble, I had the opportunity  to start my own business.  In 2004, I launched a start-up around the idea of a virtual trade show aimed at eCommerce marketers.  While there had been a number of attempts at virtual trade shows before mine, most of them were quite boring and I thought a business could be built around a more engaging type of virtual event. 
How has the industry changed since you've started?
The evolution in this space has been extraordinary on many fronts.  First has been the realization that the technology is only one component of a successful event, and that you need to spend at least as much time on the strategy, content and marketing.   As a result, agencies like Maritz, Freeman and others are building practices to help event organizers put on higher quality events with less effort.  Another evolution has been around the types of events held.  From 2004-2008, almost all the action was publishers putting on virtual trade shows to replace lost revenue from their declining print ad sales and subscriber base.  In 2009, you started to see associations more effectively creating hybrid extensions to their physical conventions.   2009 is also when more and more corporations starting leveraging virtual for a variety of events, ranging from sales meetings to user groups. A welcome change has been the technology platforms themselves, which increasingly have very robust functionality and can handle ever-increasing numbers of virtual attendees.  Finally, there's less talk these days about purely virtual events, and more about hybrid and blended events which I believe is the future.
Adoption of virtual events & meetings technology has increased significantly due to the recession. What challenges do you see for mainstream adoption of this technology?
Although the adoption has increased significantly, we're still only scratching the surface.  One report suggests the virtual event space will grow to $18 billion in five years, so we're still in the "early adopter" phase.  To cross the chasm to mass adoption, I think three things need to happen a) the technology needs to become more self-service and less expensive; b) virtual event platforms need to be effectively ported to mobile devices and c) events funded by virtual exhibitors need to deliver more value to those sponsors.
2011 is just around the corner and it's the time of year for future predictions. What do you see happening for the industry in 2011?
I see 2011 as the "Year of the Hybrid".  The idea that more and more physical events will have virtual extensions, either as pre, during or post the physical event.  Whether those virtual extensions are focused on driving more attendees to the physical event, or helping you reach others who weren't able to make it to the physical event, these extensions are the "killer app" for virtual technology.
Any additional thoughts that you would like to share?
An exciting new use of the technology allows corporations to create virtual extensions to their physical trade show booths.  Even if the show organizer doesn't have a virtual extension to the event as a whole, top tier sponsors are realizing that their own virtual extension can help build buzz, drive attendance to their physical booth and provide a more effective follow-up mechanism for booth visitors, as well as those that didn't make it to the physical event.
Technorati verification: 9ZGN6GBWBMAT
As I believe virtual events will or have already become an integral part of a marketing strategy, my goal is to highlight how to leverage this technology most effectively to achieve your communications and marketing objectives. In the essence of full disclosure, I was previously employed by two vendors in this space (Inxpo and On24) and am currently assisting Virtual Edge Institute for their January Summit in Las Vegas. I hope to engage key vendors and thought leaders in the space with more Q&A's to follow. To kick off the series, I interviewed Miguel Arias of Imaste, a leading provider of virtual job fairs and tradeshow platforms based in Europe, via Skype and over email.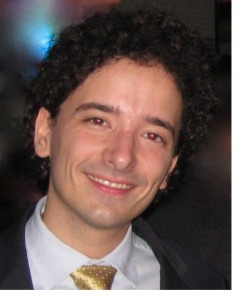 Miguel Arias is co-founder and COO of IMASTE. Miguel is also a proactive start up mentor, integrated in the Instituto de Empresa Business School Venture Lab programme. Miguel holds a MSc Degree in Civil Engineering from the Universidad Politécnica de Madrid, and a Professional MBA from the Instituto de Empresa Business School, and is fluent in 4 languages. You can read his thoughts about the industry on his blog or follow him on twitter (@imasteips or @mike_arias).
 Tell me about Imaste and how you began 

 Imaste is Europe's leading specialist in virtual events, fairs and trade shows. Since its launch, we have delivered more the 100 virtual experiences in more than 15 countries. Imaste has strong partnerships with some of the major job boards across the globe, as well as with global corporations and interactive agencies, with a strong focus in the European and South American markets.
We started with physical job fairs and then moved to virtual, starting our work in Spain, and expanding afterward in the main European markets. We started by managing all the aspects of a physical event from organization, conception, logistics, sales, marketing to execution. We saw the real needs of our customers to go virtual and how they could benefit from technological platforms to obtain better results. 30 percent of our business is still physical with 70 percent virtual. 

One of our first international clients was Monster, which provided us more awareness and an opportunity to work in many regions in a short period of time and also cooperate with other leading job boards, like curriculum.com.br in Brazil, Dridco in Argentina, Venezuela, etc.
Our market to date is 60-70% virtual job fairs and 30% mainstream tradeshows, with little demand for corporate events at this time. We're strongly diversifying our reach; delivering more and more generic virtual trade shows (MBA trade shows, entrepreneur virtual events, franchising events, automotive industry trade shows…) 


Does your physical background provide you an advantage? 

We believe delivering a great virtual event is not just about the number of features or backend capabilities. It's more about delivering a live experience that is equivalent to real life, and we're experts in that.
Our solutions have an engaging look & feel and interface design, compared to other applications. Our attendees experience the feeling of taking part in a real event, where they can interact with others, learn, share and network. While other American competing platforms may have more reporting or data mining tools, we are focused on the user experience and real results gathering.
Is this all custom work? 

Actually not. We completely customize the look and feel of our virtual events, and we also offer a great array of customization possibilities in the platform configuration and 3D environment set up. But we offer each exhibitor a complete backend to manage their content, leads and live interactions.
We will organize about 70 events this year in more than 18 countries. Therefore we have gathered a lot of experience in language customization, adaptation to cultural differences in many regions and server and data integration with various systems and infrastructures.
What is your webinar technology?
We have our own webinar application, but we have seen great apps being developed out there. Therefore we integrate our platform with other solutions. We also integrate with other type of applications such as Ustream and dimdim.
We believe that most of the virtual event platforms will be able to integrate with many of the existing webinar solutions in the future, therefore webinars are going to be a commodity in the market.
Tell me about a typical event? 

We usually deliver main stream events that are open 7-10 days with 40-80 exhibitors for an event. We have an average of 100,000 unique visitors per event with a maximum of over 300,000 unique users and peaks of 80,000 users a day in Argentina. We've had simultaneous chats up of 1,000 attendees.
The landing page, interfaces look & feel and even 3D environments are customized on a case by case basis. For each client work, we work as an agency, offering training and continuous technical and operations support, which helps the client.
We also offer orientation tests, which is a compatibility test that matches an attendee with prospective exhibitors that match his or her profile. This is used for all kind of trade shows, not just virtual job fairs. We narrow down the best prospects and affinity based on the responses. The exhibitors then also provide their responses which is how the matching works. 

This information is stored in the attendee's  profile. The companies can also view the matches for follow up for sales and recruitment pre-screening.
What is the cost for your events? 

We deliver low-end, basic solutions with look and feeling customization, but no registration or feature customization. Using one of our templates with basic functionality and 25 exhibitor booths the cost is about US$12,000.
High-end, standard solutions with complete functionality (registration tool, real time written and video interaction, orientation tests, etc), some degree of customization and around 40 customers is about US$30,0000.
If we incorporate video production and complete customization, then this can be up to US$60-80,000. 

What is the timeline for an event?
We can develop an event in one month and the bottleneck normally is on the client side, in their sales process. Normally we provide marketing training, sales training and logistics training to communicate the work load and the expectations. A virtual event is not just a fancy website. The partner needs to understand how dynamic the event is. 

Sometimes in Spain, we even do the sales and logistics.
 We are a partner throughout the whole process, providing timelines, documentation, control, etc.
What are your future plans? 

We go where the client needs us. We have created corporate environments and believe there is more need for all kinds of virtual trade shows, not just virtual job fairs.
Till now, Europe doesn't have much business in virtual events, but this is rapidly changing. We will face the challenge to remain leaders when the market consolidates and the American players start their operations here. But Europe is a difficult market, with many particularities, and we have the experience, contacts and resources to grow in our own playground.
We plan to deliver some events in the US by the end of the year, but our main market is Europe and South America.
Where do you see the industry going? 

 A definite trend is that most physical events are going hybrid event, as physical want to go virtual with tighter integration. As an attendee, you'll go to a physical exhibit and shout your experience in Facebook, while you favorite some content virtually and gather physical samples.  You'll have networking in virtual and meet in physical.
We are continuously developing our platform; in the next weeks we will announce the new version, with many exciting new features. We are moving into full screen mode with more smooth video integration and much more.
We do not believe in avatar based immersive technologies for virtual trade show purposes, As users lose so much time learning how to set up their avatar and walking around, and the event is about getting information and interaction as soon as possible.
There will be an increase in networking, in 3D experience, physical virtual connection, and interaction (better chat, 1:1, etc.). 

In the end it's all about online collaboration with real time interaction and communication tools in 3D alike intuitive environments, having a sense of being there, then.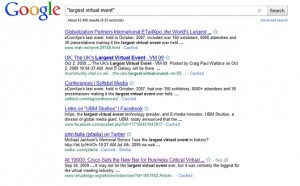 Many virtual events vendors and companies have touted that they have held the "largest" virtual event. Cisco GSX in 2009 with 19,000 attendees and AMD with 672,000 attendees in 2006 (Forrester Report, Market Overview: Virtual Event Platforms for B2B Marketers) are just a couple of examples. A quick search on the term "largest virtual event" yields over 40,000 results on Google – some referring to vendors with others referencing events.
But does size really matter?
While an important indicator of a platform's scalability, I think the focus on size overlooks other key factors when determing the value of virtual for your marketing and communications campaigns.
Metrics
The largest event may not necessarily yield the right results for your company. Many of the platform providers have detailed metrics regarding the number of attendees, length of stay, number of downloads and more. The challenge is how developed is their analytics engine to provide a layer of intelligence to interpret that data.
Questions to consider: What type of metrics are provided? What format are these metrics provided to me – excel data sheets or graphs? Are there lead scoring capabilities to identify A, B and C leads? If so, how does it work? Does the vendor help me to calculate ROI? A discussion on Focus, a resource for business professionals, provides more discussion about the ROI of virtual events.
User Engagement
Developing an experience that is unique to your company, ties back to your brand, and is engaging requires thoughtful planning. With hundreds and thousands of potential attendees, how do you structure the environment to intuitively create a flow within your virtual event. A critical element is mapping out how you want people to engage with one another, exhibitors and speakers within the event.
Questions to consider: Can I use a cookie cutter template or do I need something more custom? Will the vendor work with me or do I have to provide this? Do I have to use an agency in addition to the platform provider? How much time do I need to accomplish the desired experience? How do I create the right attendee flow within my virtual event?
Learning
The main component of any event is the content. Driving people to the virtual event is one aspect, while delivering content in a way that imparts learning is another element.
Questions to consider: Beyond how long somebody attends my event, what ways are there to measure short-term and long-term retention? Can you test or quiz the audience before, during and after an event? Will this cost more? What delivery method works best (video, audio, text, combo) and why?
Conclusion
While you host or build the largest event, a truly successful virtual event goes beyond size. It provides the right metrics with an engaging experience that delivers real learning to you audience.
What other factors are there to consider?

I authored a guest post on "Using Social Media to Drive Virtual Tradeshow Leads" for It's All Virtual, an influential blog exploring virtual events and environments. In my post, I highlight key strategies on how you can leverage social media:
1. Identify influencers
2. Engage in conversations
3. Advertise Socially
4. Share Freely
5. Measurement and Tracking
I conclude my post by stating:
One word of warning is to first research and evaluate before plunging in with a social media marketing program, especially when contacting individuals and bloggers or participating in online discussions. While social media marketing takes time and effort, when done well, the results can be spectacular!
What has worked for you?
About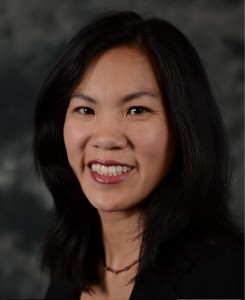 Cece Salomon-Lee is director of product marketing for Lanyon Solutions, Inc. and author of PR Meets Marketing, which explores the intersection of public relations, marketing, and social media.
This blog contains Cece's personal opinions and are not representative of her company's.
Marketing Blogs
Virtual Events & Meetings Blogs
Cisco Virtual Environments
Search Site