Browsing articles tagged with " Virtual Event"
Here are two videos that I took while I was at the Virtual Edge Summit 2011.  Again, while I provided PR/marketing/social media services to the summit, the below represents my personal opinions and not those of the Virtual Edge Summit.
NOTE: I am providing pr/marketing services to the Virtual Edge Summit. This post reflects my personal opinions and is not representative of the Virtual Edge Institute or Virtual Edge Summit.  
I previously wrote about some of the efforts we undertook to promote the Virtual Edge Summit. I would like to highlight some of the buzz coming out of the Summit and what this means for marketers. Interestingly, I anticipated hearing some innovations from the key players in the US virtual events market – INXPO (Note: I was previously employed here), 6Connex, and Unisfair.    
Rather, for me, I was intrigued by the number of mobile developments by other providers at the show, Altus, Digitell Inc. and Social27. While this was surprising, it fits into my overall predictions about the industry, that newcomers will help push the innovation for virtual and hybrid events. Here's a quick summary of the announcements. I also had the opportunity to speak briefly with Altus and Social27. Here is a quick overview of the Altus and Social27 news, and I plan to post the videos once I get those completed. 
Altus Brings Conferences to the Palm of Your Hand
Altus highlighted their announcement as an extension of physical to provide a "hybrid" experience. The mobile application allows conference organizers to put the conference agenda, sponsor information and even presentations on your mobile device. 
Why you should take a look? Since attendees proactively download the app to their device (supports many operating systems), conference organizers can continue pushing updates to attendees long after the conference has ended. If you leverage this as an opportunity to continue a conversation, you can keep members engaged while driving interest for the following conference, as well as open up possible revenue opportunities via sponsorships.    
Taking Social Interaction to the Next Level with Social27
Social27 originally started as a service to bring social collaboration to enterprises. Seeing an opportunity, Social27 is moving into events and conferences. The company has a philosophy of "Social, Mobile and Local", which Ike Singh Kehal, CEO of Social27, explains in his video (coming soon). Like the main U.S. players in the market, Social27 provides an environment with 2D locations for networking, exhibitors and sessions. Since the company comes from the social collaboration space, Social27 provides a simple integration with the key social networks. 
Why you should take a look? Social27 does the social collaboration and networking well. I would venture to say that it provides the simplest and most intuitive interface to date. Furthermore, the company leverages the wealth of your social graph to provide "matches" to assist with networking. Currently available on Windows mobile phones, expect Social27 to expand the services to additional mobile OS. By adding the geographic aspect as well, Social27 provides marketers with the ability to search, seek and network with prospects – virtually or in the real world. 
 Conclusion
The Virtual Edge Summit provided great insight into how marketers can leverage virtual and hybrid events as part of the marketing mix. And an integral part of the experience is extending the event to mobile devices. Do you agree or disagree?
From January 12-13, 2011, hundreds of people will gather in Las Vegas and online to attend the Virtual Edge Summit 2011. I have had the pleasure of assisting the Summit in their public relations and marketing efforts. While I have done PR and marketing activities as a vendor exhibiting or speaking at an event, this was an interesting opportunity to help drive awareness, conversation and ultimately registrations for a conference of this sidze (not including corporate webinars and virtual events).
With the conference a week away, we will not have a full sense of the results until after it has concluded. With that said, I wanted to highlight three strategies and tactics we used (are using). While this doesn't encompass everything we did/are doing for the Summit, it does provide a look under the covers:
Key Objectives
1. Drive Brand Awareness: This year, the Virtual Edge Summit expanded its program beyond virtual events, meetings and conferences to incorporate virtual learning and training. This opened up the Summit a potential new pool of attendees within the elearning and training spaces. Our goal was to continue driving awareness within the meeting and events industry, while introducing the Summit to this new space.
2. Increase Engagement: We wanted to build on the 2010 efforts to further involve our audience – both virtual and physical – with the Summit. This would help generate word of mouth amongst our key audiences and hopefully reach new target audiences.
3. Grow Registrations for In-Person and Virtual Attendance:  And of course, part of the success would be measured by the number of registration for the in-person and virtual versions of the event.
Key Tactics
1. Focus on Public Relations: My foundation is in public relations, so this was a natural area to focus our efforts.  In addition to the general press releases about keynote speakers, new sponsors and the program, we looked at how we can generate discussion in the industry, while promoting the Summit. For example, we decided to develop an infographic that summarized the key virtual events industrystats from 2010. The purpose was to provide the industry with a visual way to synthesize the progress that virtual had made over the past 12 months. In addition to posting to the Summit blog, we contacted key reporters, industry bloggers, and sponsors. The resulting blog posts and discussion around the infographic keeps the Summit and Virtual Edge Institute front and center.

2. Start and Seed a Summit Blog: Our speakers are the innovators within the virtual events and learning industries. We started a blog and invited our speakers to submit 300-400 word blog postings related to their presentation or industry. With a dozen speakers taking up the offer, this provided credibility to the blog, allowed us to generate relevant content quickly, and distribute this to a wider audience through speaker promotion. At this writing, our hope is to continue the blog to drive the conversation until the next Summit.

3. Social Media: While Twitter was leveraged last year, we drafted a more formal strategy for our social media program this year.

a. The cornerstone will continue to be Twitter, assigning each room with a unique hashtag to receive questions from the audience. We also created Twitter lists of attendees, speakers and sponsors to recognize all the different audiences supporting the Summit. Finally, we reached out to speakers and sponsors to promote their participation at the conference, which generated many tweets leading up to the conference over the past few days.

b. We researched groups in learning, training, events, conferences and meetings on LinkedIn.  Following group guidelines, we posted information about the Summit, participated in appropriate discussions,  and/or started discussions.

c. With regard to Facebook, this is being leveraged as an alternative way to connect with our audiences. We cross post all blog posts and post questions to solicit engagement. While this part is nascent, we're contemplating using Facebook as the main photo archive for the Summit and inviting virtual attendees to post photos of where they are attending the Summit to the page.
Wish Us Good Luck
While this doesn't cover everything we've been doing, I'm pretty happy with what we've been able to accomplish so far. If you're interested in checking out the summit, you can register at http://www.virtualedgesummit.com/registration_reader. The interesting aspect is that the Summit will have ten different technology vendors streaming the content. The idea is to provide people with a choice and way to evaluate different ways of holding a virtual event.
In the post-event summary, I'll highlight some other unique aspects of the event, initial results and some areas of improvement.
And I'll also be one of the virtual hosts to bring content live from the exhibit show floor to the virtual audience! (wish me luck)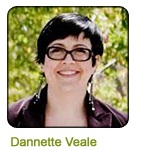 Last week, I spoke with Dannette Veale of Cisco regarding how Cisco is leverainge virtual and new technologies for their events and conferences. This week, Dannette shares her predictions for 2011.
It's the time of year for 2011 predictions. What do you see in store for the industry in 2011 and which technology(ies) do you think will gain popularity?
I see mobility as being the big one and will start looking at that. We leveraged Ustream last year and have a lot of interest with the mobile app for Ustream iPhone. I also think that with the onset of tablets and number of tablets being put out by Samsung and Apple, we will see a huge amount of event tools and experience extended out to mobile, especially tablets.  We will see people go beyond the provider mobile applications and opt for white label applications for mobile to create a push-pull opportunity.
For example, download a hypothetical Cisco Live mobile app that will notify the user of updates to content, new contests and upcoming live events they can watch via their mobile device. This type of mobile application could be leveraged as an audience acquisition tool. If I'm not reaching you via the event web site, direct email or social media, but you've downloaded my app, then those individuals will be notified of updates. They are invested as they downloaded the app already. This will be a key way to distribute live video for hybrid events.
I also see mobile for event management taking off tenfold – the ability to monitor traffic to various areas with physical security reading back to data analytic tool, 40% of audience in auditorium or 60% in tradeshow floor, is a powerful tool for an event operations team. From an event management perspective, you'll have real-time results for key surveys on key session and prize notifications on basic level, etc.
I see mobile becoming an intrinsic tool that event managemers will really be able to leverage to manage the event and do that analysis. It simply makes them more nimble.
The unconference will be realized as well, and mobile can help with this. You can watch the video,  translate and ease the conference experience with maps on their device. Add to this a way to heat map where the traffic levels are, extending this function to your buddies and contacts, you can enhance the virtual experience or promote friending at a physical event itself.  You're able to see when people are online or physically at a specific location.  In a large conference where there are many people, you can only send a small group of people to the event and the social gatherings are around their co-workers for dinner and other activities. The social mobile tools now give them the access to make and find connections.
The event experience will increase as a whole.
Dannette Veale's Bio
As the virtual and social technology strategist for Cisco's Global Sales Experience (GSX), Dannette Veale lives and breathes new media. Prior to her role on the GSX team Dannette lead the creation and drove the strategy for the award winning Cisco Live and Networkers virtual program. Dannette has also managed global online and virtual programs for a variety of Cisco groups; most notably emerging markets. When she's not evangelizing the use of virtual environments to extend the reach of an event and broaden the overall audience demographic participating, you'll find Dannette engaged in such varied hobbies as producing streaming media, designing Web sites, or watching classic films such as Blade Runner. Outside of her daily immersion in the bleeding edge of collaborative media, Dannette's also been known to partake in such real world activities as gardening, baking, and knitting;while watching cyberpunk anime, of course.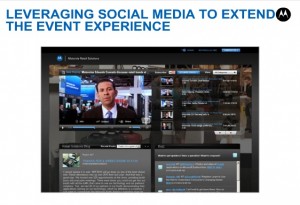 The session I was most interested in attending was the "B2B Events: Build Audience and Extend the Conversation through Social Media" at MarketingProfs SocialTech conferene. Belinda Hudmon, Sr. Director, Interactive Marketing, Motorola, shared how they leveraged social media for their events and to accelerate the sales cycle.
Start with the Customer
Motorola first started from the customer's perspective to understand the pain point and sales cycle. The company levereaged in-depth research, customer insights and detailed personas to help develop digital toolkits to help prospects and customers through the sales process, such as microsites, product tours, website, social media and communities.
Events Key Part of B2B Sales
Events are key part of Motorola's B2B sales but the recession impacted audience attendance (up to 50%+ decline for some key events) , especially since many of Motorola's events were global.  Interestingly, virtual events weren't necessarily the answer as Motorola was cognizant of people's limited time to participate in such an event.
According to Hudmon, they learned that 69% of business buyers use social media to make a purchase decision (Forrester). This, combined with the impact of the recession on event attendance, lead Motorola to develop its "Share the Experience" site. The goal of the site was to expand the experience for the event with video as the core.  They leveraged several social media tactics to seed content and drive engagement:
* Uploaded videos to YouTube
* Had bloggers contributing insights about industry trends and from the industry floor to see what was happening
* Followed Twitter and Facebook to see what was happening via hashtags
* Provided access to initial information on case studies and other content from content sites, social media integration (e.g. flickr), etc.
* Promoted the site via email, twitter, and facebook to give info about the speakers, as well as feed information about the show back to their different social communities
* Recently provided mobile experience as well
Results: Increase Engagement, Thought Leadership and Post-Show Dialog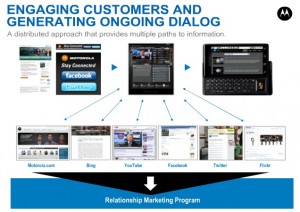 Overall, the "Share the Experience" site helped Motorola to establish a following with their customers, partners and prospects which extended their dialog with these key audiences. This also helped drive Motorola's thought leadership platforms with blog postings and real-time updates from Twitter and Facebook. This has become an integral part of other shows and as a way to launch other thought leadership platforms.
Highlighting the value of archival content, Motorola discovered that 60% of the videos were watched after the event had concluded with 3X more demos completed online overall.
Questions from the Audience
Note: I tried to capture the questions and quote as fully as I could and is not meant to be a "transcript" of what was said. Questions are in purple with the response italicized.
Built the virtual conference platform internally for Motorola. Why internal vs external? Looked at virtual events and one of the issues with virtual events is that people's time is limited. With the "Share the Experience" site, we weren't trying to replace virtual but have an experience before, during or after the show. Have done some virtual that weren't live stream and more on-demand scenario. Have tested the virtual event as an augmentation to events to see live and ask questions.
Social media integration – used corporate Motorola or different accounts within the event? Started by an event site but realized the opportunity was a Motorola site or audience-specific site. As set up the site and interface with it and can have a long-term interaction. So leverage the audience site to interface with event sites as they come online.
Conclusion
Motorola recognized that events were an integral part of their sales process, but the recession greatly impacted attendance at their global events. By understanding their customers – especially that these are time-constrained professionals, the company opted for a website-based experience integrated with social media versus a virtual event.  In this way, Motorola discovered an effective way to drive engagement, thought leadership, and I'm assuming, sales forward.
How are you using social media to drive your B2B events? What other strategies are you using?
Note: This has been cross-posted on my previous former employer's company's blog, which . Furthermore, my company offers virtual events solutions.
Over the past year, virtual events (e.g. virtual conference, virtual tradeshow, etc.) have gained in popularity due to the economic recession and budget restrictions. As more conferences consider a virtual companion to a physical conference or even going virtual all together, this represents a new arena for public relations professionals:
– No longer can you stand outside the press room and grab journalists for an impromptu interview
– You don't have to walk or run a mile to get from one meeting to another with your client close behind
– What? – no late night cocktails with the reporter listening to a band from the 80's?
How Public Relations Can Take Advantage of a Virtual Event
All kidding aside, I think this is something that will become more commonplace. Here are my recommendations the next time your client attends an event with a virtual component:
* Staff the Booth: In a virtual world, there are no limitations on the number of booth staff. Your team can now staff a virtual booth alongside your customer. You will get to read what customers and prospects are seeking, which will make you more informed about your customer's business. When a media or analyst comes to the booth, you would be the go-to person.
* Include Media-Ready Content in the Booth: Depending on the virtual event, the client will have 3-5 tabs for content. Recommend that one tab includes information that would be valuable to press and analysts, such as fact sheets, company backgrounder, link to the corporate blog, link to your online newsroom, and other resources.
* Participate in the Networking Lounge and Auditorium Chats: Most of the participants are in these two locations. Participate in these discussions as reporters may be asking questions of attendees, seeking resources, or participating in a subject-matter discussion. If the topic discusses your company or product, consider inviting the reporter to a private chat or to come by the booth to learn more. As everything, just make sure to be relevant to the reporter.  
* Hold a "Virtual Press Conference" in Your Booth: Like a physical event, you can schedule time to have a "virtual press conference" for an announcement and Q&A with your executives. The benefit is that you can potentially drive more participants as there are not travel requirements. The Q&A would take place via the group chat, recognizing that this is visible to everyone.  And remember, this takes the same amount of preparation as a normal press conference!
* Invite Press/Analyst to the Virtual Event: Virtual conference and tradeshows are fairly uncommon. If this is one of the first events in your industry, then press and analysts may be curious to learn more. Take this opportunity to invite them to the virtual event and discuss why your company is participating in the virtual trade show. Just be aware that registration is required to attend. Since most of this is free, consider setting up email aliases, e.g. [email protected], to manage reminders directly with the reporter. Otherwise, have the reporter sign up directly.
Conclusions
In the end, a virtual conference or trade show represents an opportunity for public relations. I've heard of a few instances where press and analysts have been invited to invitation-only events online, I do anticipate this to increase as larger, more public conferences consider virtual components. When this happens, will you be prepared?
 Part of this is due to the heightened scrutiny on how financial institutions are spending money since the financial meltdown. Starting with AIG and now with Morgan Stanley's announcement, public corporations are weary of holding large "destination" events that are seen as too extravagant. In addition to outright canceling these events, this is giving rise to virtual events.
I've been noticing an interesting trend in my LinkedIn discussions recently. People are concerned about the decline of attendance at physical events or the outright cancellation of these events. Event organizers from publishers to corporate planners are struggling with how to maintain relevancy at a time when the bottom line is ruling decisions about corporate events.
Are Virtual Events the Answer?
Virtual events are seen as more cost-effective for both the company and attendees – no travel, no lodging, and no catering costs. Furthermore, there are various technology tools available to ease person-to-person communications or to recreate a networking environment.
While I am a huge advocate of virtual events ranging from online seminars, virtual summits, virtual tradeshows to conferences and sales meetings, I do believe that going virtual isn't necessarily the right answer for everyone. Instead, if you take a step back and look at the larger picture, there may be other options available to you and your customers.
Questions to Ask
What is the objective of your event? – Determine why you're holding this event. Is this an employee motivation get together, a white-glove customer event or a sales training meeting. I would argue that a white-glove customer event is important for future business while a sales training meeting can easily be moved to an online format. As for the employee motivation get together, this can be done in a hybrid approach which I will describe below.

How technically savvy is your audience? – If you decide to do a virtual event, you have to confirm that your audience is computer literate and has access to the minimal computer requirements. For example, my sister is a nurse. While she has access to a personal computer, her hospital doesn't. So you have to consider the logistics of holding an online event with these constraints and how your audience will be able to view and interact with your content.

Will your audience prefer in-person, virtual only or both? – In addition to technical savvy, another consideration is how your audience prefers to interact. If they prefer in-person, then you can consider other ways to provide an in-person experience while minimizing cost considerations.

Why not a hybrid approach? – I think one overlooked strategy is looking at what I call a hybrid approach – an in-person event with a virtual component. This approach works when a core segment of your audience prefers in-person events for educational networking purposes, while another segment may be unable to attend due to personal, professional or cost reasons. I also believe that this works when looking at corporate events. For example, Cisco announced that they were canceling their global sales meeting in favor of a virtual event. Assuming that one of the main reasons for a sales meeting is to recognize your top sales folks, you can still hold regional in-person events to recognize these individuals or have an invite-only webcast with the CEO. This imparts exclusivity, while holding a virtual event for general sales training.
If you decide to go virtual, then what tools are there to facilitate your objective? – There are many virtual trade show and world vendors on the market, such as InXpo, Unisfair, Nortel's web.alive and even Second Life, who can work with you to build out the right environment. Alternatively, you can start small with a web conferencing type of solution to create a webinar program. Regardless of how you decide to proceed, you can then layer social media tools (many are free) to further engage your audiences. And if this is truly a dedicated audience, possibly nurture a community built from the event itself.
Conclusions
Right now, the first reaction is how to cut costs by eliminating physical events. Furthermore, the current market conditions will enable virtual worlds/events vendors to grow and demonstrate the true value of going virtual.
I believe that as companies and event organizers take a step back, people will realize that there are different options available to them to achieve the same objectives cost-effectively.
About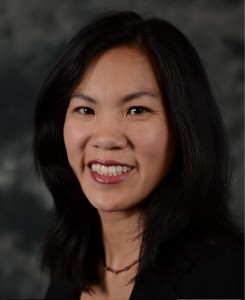 Cece Salomon-Lee is director of product marketing for Lanyon Solutions, Inc. and author of PR Meets Marketing, which explores the intersection of public relations, marketing, and social media.
This blog contains Cece's personal opinions and are not representative of her company's.
Marketing Blogs
Virtual Events & Meetings Blogs
Cisco Virtual Environments
Search Site