Browsing articles tagged with " Virtual Events & Meetings Blogs"
I have the pleasure of presenting two webinars for the MPI: Dispelling the Myths about "Going Virtual" on November 17 and Making Virtual Profitable: Steal These Business Ideason December 9, 2010. Free to MPI members, the webinars are $20 for non members. If you can't make it to the live webinar, they will also be available on-demand and I will post the slides after each webinar. Hope you can join me and please forward me any questions or comments.
Dispelling the Myths about "Going Virtual"
WHEN: Wednesday, November 17th, 11am – 12pm CDT
WHAT: The recent economic situation has provided a catalyst for companies to look at cost-effective alternatives to scheduling and executing face-to-face meetings and events.  This situation combined with reduced travel and marketing budgets, has given rise to virtual events. A successful virtual strategy reduces costs, increases productivity, extends reach, provides rich data intelligence, and benefits the environment. Yet, meeting professionals are hesitant to incorporate virtual elements into their meetings and event portfolios. Leveraging real-world case studies, this session will dispel several myths about "going virtual".  Get answers to your theories like:
• Virtual will cannibalize my physical audience.
• Virtual will be a costly element for me to include in my budget.
• Virtual will only be used by my most technically savvy members.
• Virtual is only for larger corporations.
Making Virtual Profitable: Steal These Business Ideas
WHEN: Thursday, December 9th, 11am – 12pm CDT
WHAT: According to FutureWatch 2010, 12% of meeting professionals are expecting virtual meetings to be a continuing trend.  The question meeting professionals have now is how do they create a virtual strategy that serves their audience's educational and networking needs while expanding their own revenue opportunities. This session with explore four business models for virtual options:
• Freemium Registration: Free registration for basic content vs. charging for premium content
• Exhibitor Driven: Tiered programs and services for exhibitors
• Sponsorship: Advertising and brand awareness associated with the virtual component
• Hybrid Opportunities: Prizes, games and sponsorships that span the physical and virtual event.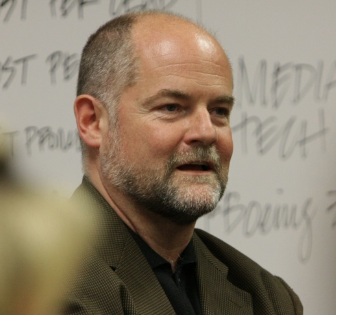 As I believe virtual events will (if not already) become a more integral part of a company's communications strategy, I will reach out to vendors and practitioners in the industry to share their thoughts for the weekly PRMM Interview leading up to the Virtual Edge Summit in January 2011. This week, I reached out to my former company to get a sense of how virtual events differ from webinars and where the industry is going. Mike Westcott, VP of Marketing with INXPO, shares his thoughts.
 Mike Westcott oversees INXPO's branding and marketing as Vice President of Marketing. Westcott has helped drive growth and innovation throughout his career as a leader at numerous global marketing organizations and agencies. He was most recently responsible for community strategy and marketing innovation with media company, Red7 Media, where he ran the Event Marketing Institute. He has been instrumental in helping to shape the dialogue in the brand and experiential marketing industry for over twenty years through his writing, workshops and thought leadership.
Can you provide a quick overview of InXpo?
INXPO is the first and leading provider of virtual business solutions. These solutions help organizations improve their business performance by transforming the web from pages and links to events and destinations where people go to connect, collaborate, learn and do business.
Many marketers currently leverage webinars as part of their lead generation programs. How are virtual events different from webinars?
In an era when content and education are an increasingly important part of marketing and communication, webinars are a proven means of broadcasting content to an online audience.
Virtual events combine webcasting of content with online conversation, peer-to-peer connection and collaboration tools and social media to help people connect much like they do at physical events. While virtual events don't replace the face to face connection we experience at a physical event, they are fast becoming a critical addition to extend the content, conversation and collaboration of physical conferences and tradeshows. This combination, called Hybrid events are the way to go for smart organizations that seek to make the most of their communication and content investments.
Compared to a webinar, a virtual event is more costly and takes more time. Can you elaborate on the type of scenarios where a virtual event would be better than a webinar?
Virtual events are better than webinars in three scenarios
1. Hybrid events: when you want to extend an existing event investment
2. Revenue generating events: when you want to turn content and conversation into commerce by connecting a number of sponsors and prospects around shared interests
3. Education: when you want to engage your audience more deeply in educational content with collaborative activities, breakout sessions, surveys, gaming and other training tactics.
What are top 2-3 benefits of using virtual events for marketers?
1. Lower cost and shorter time frames than traditional events for lead generation and communication
2. Extending existing event and content investments
3. Online community building potential
There seems to be a lot of developments with virtual events. Where do you see the industry going?
Virtual community environments are quickly becoming the real payoff as they provide a real destination for content management and delivery, meetings and learning for corporations, associations as well as media companies who are realizing that content is not king, community is king. And content is the catalyst that brings people together.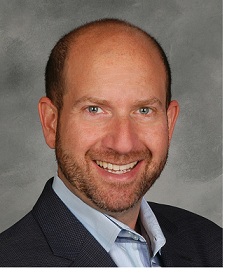 As part of the PRMM Interview series, I am interviewing thought leaders in PR, marketing, social media, and virtual events to hear about innovations, trends and technologies impacting our industry. This week, I asked virtual events vetaran, John Grosshandler is Director of Virtual Engagement with Maritz, to provide insight on the evolution of virtual events, challenges facing the industry and future trends. Here is a brief bio (Note: I was previously employed by Inxpo):
 In 2004, John launched a first of its kind virtual trade show called eComXpo which became the highest-grossing, longest-running virtual trade show ever held.  In 2005, after initially being their first customer, John joined InXpo, the virtual event platform provider that powered eComXpo.   While there, he was the Virtual Event Strategist on hundreds of virtual events for associations (e.g. HIMSS, National Association of Realtors), corporations (e.g. Cisco, ATT) and publishers (e.g. UBM, Ziff Davis).  While at InXpo, John authored the virtual event industry's first Best Practices Guide.  In his role at Maritz, John is responsible for their virtual event offerings, including supporting their channel partner Freeman.
Tell me a little bit about yourself and how you got into virtual events?
My background has been in sales and marketing roles for cutting edge technology solutions.  After a successful 8 year run at a software firm pre/during/post the tech bubble, I had the opportunity  to start my own business.  In 2004, I launched a start-up around the idea of a virtual trade show aimed at eCommerce marketers.  While there had been a number of attempts at virtual trade shows before mine, most of them were quite boring and I thought a business could be built around a more engaging type of virtual event. 
How has the industry changed since you've started?
The evolution in this space has been extraordinary on many fronts.  First has been the realization that the technology is only one component of a successful event, and that you need to spend at least as much time on the strategy, content and marketing.   As a result, agencies like Maritz, Freeman and others are building practices to help event organizers put on higher quality events with less effort.  Another evolution has been around the types of events held.  From 2004-2008, almost all the action was publishers putting on virtual trade shows to replace lost revenue from their declining print ad sales and subscriber base.  In 2009, you started to see associations more effectively creating hybrid extensions to their physical conventions.   2009 is also when more and more corporations starting leveraging virtual for a variety of events, ranging from sales meetings to user groups. A welcome change has been the technology platforms themselves, which increasingly have very robust functionality and can handle ever-increasing numbers of virtual attendees.  Finally, there's less talk these days about purely virtual events, and more about hybrid and blended events which I believe is the future.
Adoption of virtual events & meetings technology has increased significantly due to the recession. What challenges do you see for mainstream adoption of this technology?
Although the adoption has increased significantly, we're still only scratching the surface.  One report suggests the virtual event space will grow to $18 billion in five years, so we're still in the "early adopter" phase.  To cross the chasm to mass adoption, I think three things need to happen a) the technology needs to become more self-service and less expensive; b) virtual event platforms need to be effectively ported to mobile devices and c) events funded by virtual exhibitors need to deliver more value to those sponsors.
2011 is just around the corner and it's the time of year for future predictions. What do you see happening for the industry in 2011?
I see 2011 as the "Year of the Hybrid".  The idea that more and more physical events will have virtual extensions, either as pre, during or post the physical event.  Whether those virtual extensions are focused on driving more attendees to the physical event, or helping you reach others who weren't able to make it to the physical event, these extensions are the "killer app" for virtual technology.
Any additional thoughts that you would like to share?
An exciting new use of the technology allows corporations to create virtual extensions to their physical trade show booths.  Even if the show organizer doesn't have a virtual extension to the event as a whole, top tier sponsors are realizing that their own virtual extension can help build buzz, drive attendance to their physical booth and provide a more effective follow-up mechanism for booth visitors, as well as those that didn't make it to the physical event.
Technorati verification: 9ZGN6GBWBMAT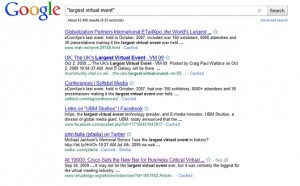 Many virtual events vendors and companies have touted that they have held the "largest" virtual event. Cisco GSX in 2009 with 19,000 attendees and AMD with 672,000 attendees in 2006 (Forrester Report, Market Overview: Virtual Event Platforms for B2B Marketers) are just a couple of examples. A quick search on the term "largest virtual event" yields over 40,000 results on Google – some referring to vendors with others referencing events.
But does size really matter?
While an important indicator of a platform's scalability, I think the focus on size overlooks other key factors when determing the value of virtual for your marketing and communications campaigns.
Metrics
The largest event may not necessarily yield the right results for your company. Many of the platform providers have detailed metrics regarding the number of attendees, length of stay, number of downloads and more. The challenge is how developed is their analytics engine to provide a layer of intelligence to interpret that data.
Questions to consider: What type of metrics are provided? What format are these metrics provided to me – excel data sheets or graphs? Are there lead scoring capabilities to identify A, B and C leads? If so, how does it work? Does the vendor help me to calculate ROI? A discussion on Focus, a resource for business professionals, provides more discussion about the ROI of virtual events.
User Engagement
Developing an experience that is unique to your company, ties back to your brand, and is engaging requires thoughtful planning. With hundreds and thousands of potential attendees, how do you structure the environment to intuitively create a flow within your virtual event. A critical element is mapping out how you want people to engage with one another, exhibitors and speakers within the event.
Questions to consider: Can I use a cookie cutter template or do I need something more custom? Will the vendor work with me or do I have to provide this? Do I have to use an agency in addition to the platform provider? How much time do I need to accomplish the desired experience? How do I create the right attendee flow within my virtual event?
Learning
The main component of any event is the content. Driving people to the virtual event is one aspect, while delivering content in a way that imparts learning is another element.
Questions to consider: Beyond how long somebody attends my event, what ways are there to measure short-term and long-term retention? Can you test or quiz the audience before, during and after an event? Will this cost more? What delivery method works best (video, audio, text, combo) and why?
Conclusion
While you host or build the largest event, a truly successful virtual event goes beyond size. It provides the right metrics with an engaging experience that delivers real learning to you audience.
What other factors are there to consider?
About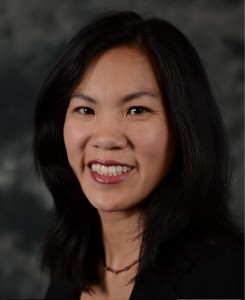 Cece Salomon-Lee is director of product marketing for Lanyon Solutions, Inc. and author of PR Meets Marketing, which explores the intersection of public relations, marketing, and social media.
This blog contains Cece's personal opinions and are not representative of her company's.
Marketing Blogs
Virtual Events & Meetings Blogs
Cisco Virtual Environments
Search Site