Browsing articles tagged with " event marketing"
I have the pleasure of presenting two webinars for the MPI: Dispelling the Myths about "Going Virtual" on November 17 and Making Virtual Profitable: Steal These Business Ideason December 9, 2010. Free to MPI members, the webinars are $20 for non members. If you can't make it to the live webinar, they will also be available on-demand and I will post the slides after each webinar. Hope you can join me and please forward me any questions or comments.
Dispelling the Myths about "Going Virtual"
WHEN: Wednesday, November 17th, 11am – 12pm CDT
WHAT: The recent economic situation has provided a catalyst for companies to look at cost-effective alternatives to scheduling and executing face-to-face meetings and events.  This situation combined with reduced travel and marketing budgets, has given rise to virtual events. A successful virtual strategy reduces costs, increases productivity, extends reach, provides rich data intelligence, and benefits the environment. Yet, meeting professionals are hesitant to incorporate virtual elements into their meetings and event portfolios. Leveraging real-world case studies, this session will dispel several myths about "going virtual".  Get answers to your theories like:
• Virtual will cannibalize my physical audience.
• Virtual will be a costly element for me to include in my budget.
• Virtual will only be used by my most technically savvy members.
• Virtual is only for larger corporations.
Making Virtual Profitable: Steal These Business Ideas
WHEN: Thursday, December 9th, 11am – 12pm CDT
WHAT: According to FutureWatch 2010, 12% of meeting professionals are expecting virtual meetings to be a continuing trend.  The question meeting professionals have now is how do they create a virtual strategy that serves their audience's educational and networking needs while expanding their own revenue opportunities. This session with explore four business models for virtual options:
• Freemium Registration: Free registration for basic content vs. charging for premium content
• Exhibitor Driven: Tiered programs and services for exhibitors
• Sponsorship: Advertising and brand awareness associated with the virtual component
• Hybrid Opportunities: Prizes, games and sponsorships that span the physical and virtual event.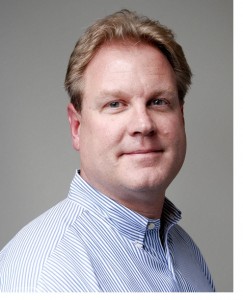 I belong to several groups in LinkedIn and came across a case study regarding the use of social media to increase membership to a LinkedIn group, which then drove conference attendance. I interviewed Bob Etheridge, social media aficionado, to learn more about his experience.
Bob Etheridge's background has been primarily in the online recruitment and job board industry. In 1999, he co-founded JobCircle.com, a regional job board in Philadelphia and 2003,  started a physical Job Fair division for the company, thus entering the event production and  marketing world. The economic downturn and lack of hiring had a large impact on the business, so in May, they took their event production experience and created a B to B conference called Social Media Plus, capitalizing on the growth and interest in Social Media. Bob can be reached at [email protected].
1) We both belong to the same LinkedIn Group and you mentioned how you increased membership to a group you were managing for a conference. Can you provide an overview of what you did?
Yes, creating a Linkedin Group is easy enough, inviting your first degree connections to join the group is also relatively easy.  However, growing your group quickly after that becomes a challenge.
November 21, 2022 – Per Bob's request, I have replaced the previous text with the below two paragraphs:
We utilized a service called Community Leadership offered by a company called Network Sunday. Network Sunday has virtual assistants that can help you with your Social Media marketing outreach. Network Sunday works with business development  and conference marketing professionals to leverage Linkedin to help grow communities, create awareness and build personal and professional brand.
By joining relevant, Industry specific Linkedin groups using the Advanced People Search engine on Linkedin, we created a targeted list of members who would most likely be interested in learning about Social Media and networking with other Social Media Marketing professionals. We then invited these people, through Linkedin, to join the Social Media Plus Conference group using a simple, straight forward message. The campaign lasted for approximately 2 months before the conference.
2) Besides LinkedIn, did you use any other marketing and social media tactics? If so, how did you leverage these tactics for driving attendance. 
Yes, we created a Facebook page and a Twitter account for the event. While Twitter was a great tool for communication during and after the conference with our #SMPlus hashtag, neither produced significant results in driving attendees.
3) What was the result of your efforts?
The response was phenomenal. In 2 months, our Conference group grew from 50 members to around 1800 and over 700 people attended the conference.  We did some traditional marketing such as direct mail and e-mail marketing, but Linkedin was the most effective marketing tool by far. We tracked the click through bit.ly URL's, measuring the use of unique coupon codes that we offered and by comparing the final attendee list to our Linkedin Group members. 450 attendees had joined the Social Media Plus Linkedin group prior to the conference. (Disclaimer – Bob was so impressed with the results that Network Sunday provided, he is now the US Partner helping other conference organizers in their Marketing efforts).
4) What three tips would you provide to those seeking to use social media to promote their conference?
 1) Social Media Marketing is a two way street. Be prepared to spend time communicating directly with your audience.
2) Don't over sell in your Marketing message. Less is more in this case. People want to explore and learn things on their own. If they have specific questions, they'll reach out to you.
3) Don't go it alone. Social Media Marketing can be time consuming and often companies start off with a bang, but burn out quickly. Social Media Marketing is a marathon, not a sprint.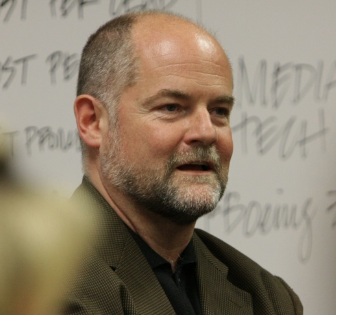 As I believe virtual events will (if not already) become a more integral part of a company's communications strategy, I will reach out to vendors and practitioners in the industry to share their thoughts for the weekly PRMM Interview leading up to the Virtual Edge Summit in January 2011. This week, I reached out to my former company to get a sense of how virtual events differ from webinars and where the industry is going. Mike Westcott, VP of Marketing with INXPO, shares his thoughts.
 Mike Westcott oversees INXPO's branding and marketing as Vice President of Marketing. Westcott has helped drive growth and innovation throughout his career as a leader at numerous global marketing organizations and agencies. He was most recently responsible for community strategy and marketing innovation with media company, Red7 Media, where he ran the Event Marketing Institute. He has been instrumental in helping to shape the dialogue in the brand and experiential marketing industry for over twenty years through his writing, workshops and thought leadership.
Can you provide a quick overview of InXpo?
INXPO is the first and leading provider of virtual business solutions. These solutions help organizations improve their business performance by transforming the web from pages and links to events and destinations where people go to connect, collaborate, learn and do business.
Many marketers currently leverage webinars as part of their lead generation programs. How are virtual events different from webinars?
In an era when content and education are an increasingly important part of marketing and communication, webinars are a proven means of broadcasting content to an online audience.
Virtual events combine webcasting of content with online conversation, peer-to-peer connection and collaboration tools and social media to help people connect much like they do at physical events. While virtual events don't replace the face to face connection we experience at a physical event, they are fast becoming a critical addition to extend the content, conversation and collaboration of physical conferences and tradeshows. This combination, called Hybrid events are the way to go for smart organizations that seek to make the most of their communication and content investments.
Compared to a webinar, a virtual event is more costly and takes more time. Can you elaborate on the type of scenarios where a virtual event would be better than a webinar?
Virtual events are better than webinars in three scenarios
1. Hybrid events: when you want to extend an existing event investment
2. Revenue generating events: when you want to turn content and conversation into commerce by connecting a number of sponsors and prospects around shared interests
3. Education: when you want to engage your audience more deeply in educational content with collaborative activities, breakout sessions, surveys, gaming and other training tactics.
What are top 2-3 benefits of using virtual events for marketers?
1. Lower cost and shorter time frames than traditional events for lead generation and communication
2. Extending existing event and content investments
3. Online community building potential
There seems to be a lot of developments with virtual events. Where do you see the industry going?
Virtual community environments are quickly becoming the real payoff as they provide a real destination for content management and delivery, meetings and learning for corporations, associations as well as media companies who are realizing that content is not king, community is king. And content is the catalyst that brings people together.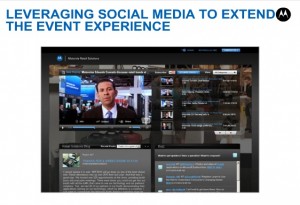 The session I was most interested in attending was the "B2B Events: Build Audience and Extend the Conversation through Social Media" at MarketingProfs SocialTech conferene. Belinda Hudmon, Sr. Director, Interactive Marketing, Motorola, shared how they leveraged social media for their events and to accelerate the sales cycle.
Start with the Customer
Motorola first started from the customer's perspective to understand the pain point and sales cycle. The company levereaged in-depth research, customer insights and detailed personas to help develop digital toolkits to help prospects and customers through the sales process, such as microsites, product tours, website, social media and communities.
Events Key Part of B2B Sales
Events are key part of Motorola's B2B sales but the recession impacted audience attendance (up to 50%+ decline for some key events) , especially since many of Motorola's events were global.  Interestingly, virtual events weren't necessarily the answer as Motorola was cognizant of people's limited time to participate in such an event.
According to Hudmon, they learned that 69% of business buyers use social media to make a purchase decision (Forrester). This, combined with the impact of the recession on event attendance, lead Motorola to develop its "Share the Experience" site. The goal of the site was to expand the experience for the event with video as the core.  They leveraged several social media tactics to seed content and drive engagement:
* Uploaded videos to YouTube
* Had bloggers contributing insights about industry trends and from the industry floor to see what was happening
* Followed Twitter and Facebook to see what was happening via hashtags
* Provided access to initial information on case studies and other content from content sites, social media integration (e.g. flickr), etc.
* Promoted the site via email, twitter, and facebook to give info about the speakers, as well as feed information about the show back to their different social communities
* Recently provided mobile experience as well
Results: Increase Engagement, Thought Leadership and Post-Show Dialog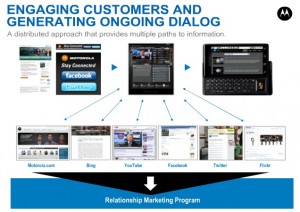 Overall, the "Share the Experience" site helped Motorola to establish a following with their customers, partners and prospects which extended their dialog with these key audiences. This also helped drive Motorola's thought leadership platforms with blog postings and real-time updates from Twitter and Facebook. This has become an integral part of other shows and as a way to launch other thought leadership platforms.
Highlighting the value of archival content, Motorola discovered that 60% of the videos were watched after the event had concluded with 3X more demos completed online overall.
Questions from the Audience
Note: I tried to capture the questions and quote as fully as I could and is not meant to be a "transcript" of what was said. Questions are in purple with the response italicized.
Built the virtual conference platform internally for Motorola. Why internal vs external? Looked at virtual events and one of the issues with virtual events is that people's time is limited. With the "Share the Experience" site, we weren't trying to replace virtual but have an experience before, during or after the show. Have done some virtual that weren't live stream and more on-demand scenario. Have tested the virtual event as an augmentation to events to see live and ask questions.
Social media integration – used corporate Motorola or different accounts within the event? Started by an event site but realized the opportunity was a Motorola site or audience-specific site. As set up the site and interface with it and can have a long-term interaction. So leverage the audience site to interface with event sites as they come online.
Conclusion
Motorola recognized that events were an integral part of their sales process, but the recession greatly impacted attendance at their global events. By understanding their customers – especially that these are time-constrained professionals, the company opted for a website-based experience integrated with social media versus a virtual event.  In this way, Motorola discovered an effective way to drive engagement, thought leadership, and I'm assuming, sales forward.
How are you using social media to drive your B2B events? What other strategies are you using?
Outside of some close friends, one of the little known secrets about me is that I used to salsa dance. Not only did I enjoy dancing, I also competed in group and couples competitions. Like all enthusiasts, I subscribed to all the salsa lists to learn about upcoming events, lessons with outside instructors and more. Since I broke my ankle preparing for a competition (um, long story =), I've discontinued following the salsa activities and unsubscribed from all the lists. At least I thought I did.
Recently, I've started receiving notifications about these events, not through my email, but through Facebook. It's getting so bad, that I'm on the verge of unfriending someone who has been sending me the most number of "event notifications." In one case to be removed from a list, the response I received was: "however, please be advised this is a public event and it could be that one of your friends who originally received the invite from me extended the event invitation to you."
Three Things to Consider Before Hitting Send on Facebook
 While the full potential of Facebook is yet to be tapped by marketers and businesses, here are some key considerations before dropping your email lists into Facebook:
1. Relationships Matter: The intrinsic value of Facebook is that friends are great filters for knowing what I like and don't like. Make sure you have an established relationship before sending an email or invite to someone, which leads to
2. Permission Marketing: Seth Godin's book is key to engaging people via online marketing. Make sure you received permission from someone first. If you're seeking to migrate your email list to Facebook, then be transparent about what you're doing. Personally, the best thing is to ask those on your email lists if they would like to be contacted via Facebook – this way, they opt in for your Facebook communications.
3. CAN-SPAM Compliance: While I don't know what the legalities are, I assume that Facebook communications would fall under the CAN Spam Act with regard to commercial content. As stated on the FTC website:
"Despite its name, the CAN-SPAM Act doesn't apply just to bulk email. It covers all commercial messages, which the law defines as 'any electronic mail message the primary purpose of which is the commercial advertisement or promotion of a commercial product or service,' including email that promotes content on commercial websites. The law makes no exception for business-to-business email. That means all email – for example, a message to former customers announcing a new product line – must comply with the law."
As such, make sure to allow for peopel to easily opt out of future communications.
Conclusions
To my knowledge, there is no way for me to opt out of someone's "marketing" communications. Rather, I have to go to each group or event to leave. This is frustrating as many times, I have not directly signed up for the initial communications. Ideally, Facebook would create a backend platform tool for marketers to manage these types of communications. Similar to existing email solutions, the communications platform would enable businesses to:
1. Send communications to people who have opted in
2. Manage opt out requests for individual groups/events or everything managed by that business
3. Monitor response rates, unsubscribes and clickthroughs for the communications
4. Provide trending reports, such as friend referrals, time of day opens, etc.
5. And much much more
And for members, we should be able to filter out communications beyond just the spam button. For example, I do want to stay updated with my friend, I just don't want all the updates regarding the next salsa class or bachata dance off.  What recommendations would you provide for marketers and to Facebook?
Exhibiting and sponsoring at trade shows is an important component of the marketing mix.  While physical meetings and conferences experienced a hit in 2009, I believe that more marketers will return to physical events in 2010. Here are five tips to optimize your trade show presence:
Media Alert
Consider issuing a media alert (a smaller version of a press release) one to two weeks before the conference. The purpose is to highlight your participation at the event, why attendees would want to visit your table or booth, and highlight any executives speaking at the conference.
Announce News
Consider announcing significant news at the conference to drive buzz about your company. The news can be a game changer such as a new product, partnership or customer.
Media Outreach
While some conferences will provide you with a media list, don't completely rely on this as your single source for media. Research local reporters, analysts and bloggers who may be interested in meeting with your executives to learn more about your company.
Social Media
While social media provides marketers more opportunities to directly connect with customers and prospects, it's critical to engage in the conversation and use it as a listening tool. Monitor the conference hashtag to identify key conversations, consider posting event summaries to your blog or update your Flickr page with images from the show floor.
Consistent Messaging
From the person staffing the booth to your key sales person networking the conference show floor, ensure that everyone is consistent on the key messages you want to communicate at the conference. I recommend creating a one-page cheat sheet that you review with everyone before the conference begins.
What other tips do you have for optimizing your tradeshow presence?

In late April, I met Christian Jurink a of Attack Marketing at the Event Marketing Summit. I was intrigued by how guerilla marketing can reach your audience/consumers and drive them to action. And yes, that is a champion sumo wrestler in the background. Attack does work for a sumo organization and have adopted him as their "mascot." Here is a quick summary of our conversation:
Economy's Impact on Guerilla Marketing
1. As budgets are being constricted, really need to be more creative to connect with consumers
2. Guerilla marketing is a cost-effective way to do that while honing in on your consumers and talking with them there
Key Benefits of Guerilla Marketing
1. Proximity marketing – it's about honing and finding key consumer and being near them
2. About driving people to retail and converting to a sell
3. Can be anywhere your consumers are and driving them to retail
About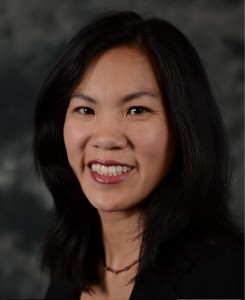 Cece Salomon-Lee is director of product marketing for Lanyon Solutions, Inc. and author of PR Meets Marketing, which explores the intersection of public relations, marketing, and social media.
This blog contains Cece's personal opinions and are not representative of her company's.
Marketing Blogs
Virtual Events & Meetings Blogs
Cisco Virtual Environments
Search Site