Browsing articles tagged with " Social media"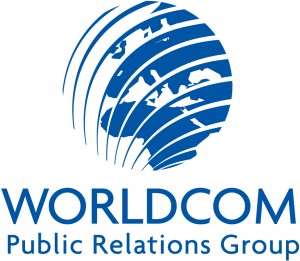 Guest Post by Cortney Rhoads Stapleton, SVP and head of the Professional Servies Practice at BlissPR New York & Aven L. James, Account Supervisor at BlissPR in New York City
While most people have made their resolutions and predictions, there is still snow on the ground in NYC, so we feel that is our free pass to add our contribution. This is a synthesis of the thoughts from members of the B2B Practice Group of the Worldcom Public Relations Group, the world's largest network of independent PR firms. In conversations with Worldcom partners in North and South America, a few trends emerged about the direction of our profession in 2011: Continue reading »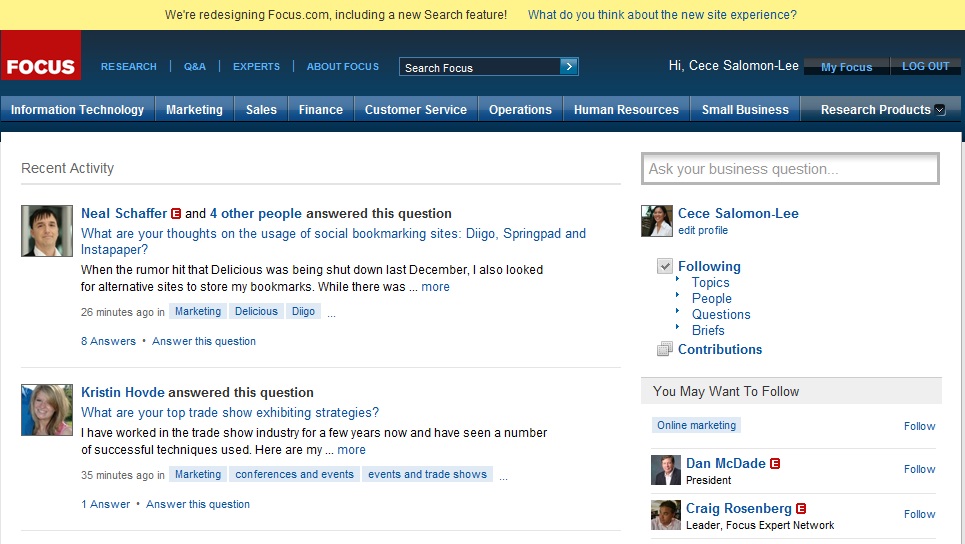 NOTE: While I am a listed expert on virtual events and social media, the below represent my own personal opinions and are not reflective of Focus.com's.   
In my blog posting, "Getting Beyond the Quora Hype," I mentioned another site called Focus.com, which seeks to provide "millions of professionals with the expertise they need to make better business decisions." Backed by Lightspeed Venture Partners, Trinity Ventures, and GGV Capital, Focus.com cites 1 million members with 5,000-plus business experts (Source: Focus.com Announces Increased Growth and Expansion Over Past Month, September 27, 2022 press release). Considering the buzz that Quora has received, I wanted to take a closer look at Focus.com as well.  
Overview of Focus.com to Date
1. Designated Subject-Matter Experts: Focus.com has designated specific members as "experts", who are considered subject-matter experts based on a few criteria highlighted under "what it takes to be an expert." When Focus.com identifies an emerging topic to include, the company reaches out to a few industry experts to assist in building the expert network around that topic. Think of it as the Alltop for business experts.  
For example, for virtual events, my colleague, Dennis Shiao, helped recruit experts for the topic. Since Dennis personally sent invites, this increased the likelihood of others, like myself, to participate as experts. And theoretically, increases the quality of answers. My concern is the number of vendors listed as experts compared to business end-users, which may add a level "selling" to answers.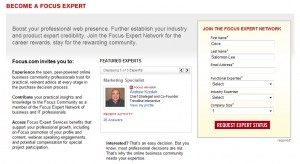 You can also request to be an expert (see image to left).   
2. Social Community:

Focus.com is currently rolling out a new interface to promote social sharing. Similar to Quora, members can follow a person, subject area, or specific topic. As this is relatively new, I'm still figuring out the ins and outs of the features. Right now, there is some difficulty in how one follows a topic area and other individuals. I anticipate this to improve as Focus.com rolls out the features. 

  
Focus already has the existing ability to vote up or down responses, which does address my concern under point 1. Based on my observation, answers that are too promotional do seem to be voted down.  
Overall,

the key difference is how Focus.com and Quora position themselves. Focus.com clearly states it's a site for business decisions while Quora is a place for getting your questions answered as a collaborative research database.
As such, I would recommend that marketers and businesses use Focus.com as part of your marketing mix while you're evaluating Quora's appropriateness. Focus.com has an edge with regards to a speedier service, search capabilities, and layout for finding the topics/questions related to your interests.
Where Quora has the edge is the quality of individuals responding to questions; though these range beyond business to consumer and entertainment. The question is whether this enthusiasm will continue in the next 3, 6 or even 12 months from now.
3. Expert-lead Research Briefs, Roundtables, etc.: Focus.com has done a great job in leveraging its group of experts to provide insights on industry trends via research briefs, roundtable discussions and white papers.  This provides three benefits: 1) members receive insights via the collective knowledge of experts, 2) experts share their knowledge to prospective audiences, and 3) Focus.com increases its position for quality content through the efforts of its experts.
As Scott Albro, CEO of Focus.com, wrote in response to "What are some tips for using focus? on Focus.com:    
"Use Focus Research for seminal decisions. Research combines the data collected from end users with analysis and commentary from Focus Experts. It's a great way to understand complex issues such as major purchasing decisions or what best practices to adopt for a particular part of your business."   
To my knowledge, the experts provide their contributions free of charge. As Focus.com gains more momentum and demonstrates a larger following, I anticipate that this relationship may change, with more experts seeking compensation for the fruits of their efforts.  
4. Expert Promotion: With that said, many experts may be content with how Focus.com heavily promotes its expert network. Experts receive invites to participate in media opportunities sourced by Focus.com and exposure through Focus' distribution to its members network and roundtable programs. This publicity may be enough for most experts who consider this part of their overall marketing and PR efforts.
5. Search Capabilities: For the life of me, I spent a good 10 minutes trying to figure out a way to search or filter questions on Quora. Maybe it's cleverly hidden, but it was frustrating. OK, I just found the search function and it is cleverly hidden. I thought you could only add a question in the upper left-hand tool bar. In fact, this is the search engine – just don't click on "add question" as you type in your search term. One thing I do like about Quora's search is that it tries to identify if a similar question has been asked as you type in the words.
On the other hand, Focus.com has the search clearly visible on the top of the page, making it easier to find questions related a specific term. And according to the website, Focus.com plans to roll out a new search feature.
Conclusions: Use Focus for Business Decisions
Overall, the key difference is how Focus.com and Quora position themselves. Focus.com clearly states it's a site for business decisions while Quora is a place for getting your questions answered as a collaborative research database.As such, I would recommend that marketers and businesses use Focus.com as part of your marketing mix while you're evaluating Quora's appropriateness. Focus.com has an edge with regards to a speedier service, search capabilities, and layout for finding the topics/questions related to your interests.
Where Quora has the edge is the quality of individuals responding to questions; though these range beyond business to consumer and entertainment. The question is whether this enthusiasm will continue in the next 3, 6 or even 12 months from now. What do you think? Are you planning to monitor both Quora and Focus.com or just one?
Other Articles of Interest:
1. AppAppeal, Review of Focus.com
2. Fast Company, Focus on Business Smarts for All
For nearly 3 years, I've been writing about PR, marketing, social media, and most recently virtual events. At times, I've been very prolific and other times I've gone weeks without a post. As a commitment to myself and to you, my readers, I wanted to share some updates for the site in a short video message that I hope will make the blog more useful for you.
Briefly, I am enacting an editorial calendar to help develop a schedule of posts and expectations. My writing schedule will be Mondays (virtual events), Wednesdays (pr, marketing, social media), and Fridays (PRMM interviews with industry experts).
I also want to invite you to submit your ideas for potential blog topics and interview subjects (email or video). Here are some high-level bullet points on what I'm looking for in guest posts, interviewees and/or blog ideas, such as surveys highlighting key trends, case studies that demonstrate ROI, interesting case uses of technology, someone who is truly visionary, etc. 
But, most importantly, read my past posts first before connecting with me.
If you're interested, please drop me a note either in the comments or via email. I look forward to hearing from you and watch here for future announcements.
From January 12-13, 2011, hundreds of people will gather in Las Vegas and online to attend the Virtual Edge Summit 2011. I have had the pleasure of assisting the Summit in their public relations and marketing efforts. While I have done PR and marketing activities as a vendor exhibiting or speaking at an event, this was an interesting opportunity to help drive awareness, conversation and ultimately registrations for a conference of this sidze (not including corporate webinars and virtual events).
With the conference a week away, we will not have a full sense of the results until after it has concluded. With that said, I wanted to highlight three strategies and tactics we used (are using). While this doesn't encompass everything we did/are doing for the Summit, it does provide a look under the covers:
Key Objectives
1. Drive Brand Awareness: This year, the Virtual Edge Summit expanded its program beyond virtual events, meetings and conferences to incorporate virtual learning and training. This opened up the Summit a potential new pool of attendees within the elearning and training spaces. Our goal was to continue driving awareness within the meeting and events industry, while introducing the Summit to this new space.
2. Increase Engagement: We wanted to build on the 2010 efforts to further involve our audience – both virtual and physical – with the Summit. This would help generate word of mouth amongst our key audiences and hopefully reach new target audiences.
3. Grow Registrations for In-Person and Virtual Attendance:  And of course, part of the success would be measured by the number of registration for the in-person and virtual versions of the event.
Key Tactics
1. Focus on Public Relations: My foundation is in public relations, so this was a natural area to focus our efforts.  In addition to the general press releases about keynote speakers, new sponsors and the program, we looked at how we can generate discussion in the industry, while promoting the Summit. For example, we decided to develop an infographic that summarized the key virtual events industrystats from 2010. The purpose was to provide the industry with a visual way to synthesize the progress that virtual had made over the past 12 months. In addition to posting to the Summit blog, we contacted key reporters, industry bloggers, and sponsors. The resulting blog posts and discussion around the infographic keeps the Summit and Virtual Edge Institute front and center.

2. Start and Seed a Summit Blog: Our speakers are the innovators within the virtual events and learning industries. We started a blog and invited our speakers to submit 300-400 word blog postings related to their presentation or industry. With a dozen speakers taking up the offer, this provided credibility to the blog, allowed us to generate relevant content quickly, and distribute this to a wider audience through speaker promotion. At this writing, our hope is to continue the blog to drive the conversation until the next Summit.

3. Social Media: While Twitter was leveraged last year, we drafted a more formal strategy for our social media program this year.

a. The cornerstone will continue to be Twitter, assigning each room with a unique hashtag to receive questions from the audience. We also created Twitter lists of attendees, speakers and sponsors to recognize all the different audiences supporting the Summit. Finally, we reached out to speakers and sponsors to promote their participation at the conference, which generated many tweets leading up to the conference over the past few days.

b. We researched groups in learning, training, events, conferences and meetings on LinkedIn.  Following group guidelines, we posted information about the Summit, participated in appropriate discussions,  and/or started discussions.

c. With regard to Facebook, this is being leveraged as an alternative way to connect with our audiences. We cross post all blog posts and post questions to solicit engagement. While this part is nascent, we're contemplating using Facebook as the main photo archive for the Summit and inviting virtual attendees to post photos of where they are attending the Summit to the page.
Wish Us Good Luck
While this doesn't cover everything we've been doing, I'm pretty happy with what we've been able to accomplish so far. If you're interested in checking out the summit, you can register at http://www.virtualedgesummit.com/registration_reader. The interesting aspect is that the Summit will have ten different technology vendors streaming the content. The idea is to provide people with a choice and way to evaluate different ways of holding a virtual event.
In the post-event summary, I'll highlight some other unique aspects of the event, initial results and some areas of improvement.
And I'll also be one of the virtual hosts to bring content live from the exhibit show floor to the virtual audience! (wish me luck)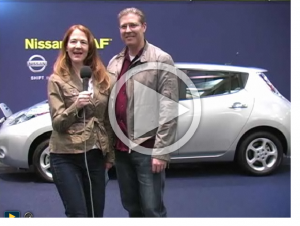 My husband and I are huge electric car enthusiasts, but not as much as our friends Amy and Andrew. I was curious when they asked me to vote for their video for a chance to win a Nissan Leaf (click on the image to the left to launch their video). I personally think their video is great =) and a great way for Nissan to drive interest in their first generation Leaf.
The contest rules are pretty straightforward: Schedule a time to test drive the Lead, record a video and promote it to friends and family for votes. A winner is selected from the various regions, with one winning the grand prize – a quiet car that will sneak upon you with no warning.
While this is a great way to drive people to the event, grow its list of prospective buyers, increase engagement, and spread the word, here are my recommendations to make this an event better contest.
1) You can share the video via Twitter, Facebook and email, but there was no way to embed the video to blogs and websites. Hence, why I did a screen capture and link to the video.
2) While the link takes you to a single videos, there is no video gallery to view entries from a single event. By having a centralized gallery, Nissan could leverage it's marketing weight to segment email lists and encourage people to vote for the best video. This could also drive interest in the contest itself. Instead, the contest depends on individuals to spread the word.
3) I'm actually on the Nissan Leaf mailing list and received emails about the Nissan Test Drive tour. But I had not heard about this contest until the email from my friends, who had scheduled a test drive. My assumption is that the contest wasn't well integrated with the other marketing channels for the Leaf – email marketing, PR (first person who received a Leaf in the Bay Area made the local news), etc. Bringing these channels together could provide Nissan with great word-of-mouth, especially as this first generation of electric cars roll out.
What do you think? And don't forget, Vote for Amy and Andrew now! I want to be the first to ride in the car!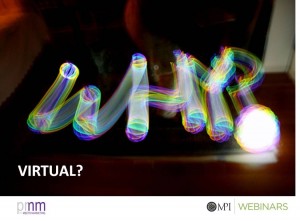 I recently presented a webinar on "Dispelling the 5 Myths of Going Virtual." My presentation slides are included below and an archived version of the webinar will be available on the MPI website shortly. Free to MPI webinars, the on-demand will be available for $20.  The webinar covered these top myths, accompanying case studies and relevant industry stats:
1. Virtual Will Cannibalize My Audience: Case study of American Payroll Association
2. Virtual Will Cannibalize My Exhibitors/Sponsors: Case study of GE Healthcare
3. Co$t$ Too Much: Case study of IMTS
4. Only for the Technically Savvy: Look at technology pace of technology adoption
5. Not as Good as F2F: Case study of CiscoLive Virtual
6. BONUS Myth: No One is Doing It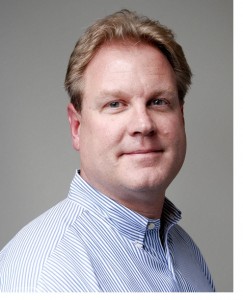 I belong to several groups in LinkedIn and came across a case study regarding the use of social media to increase membership to a LinkedIn group, which then drove conference attendance. I interviewed Bob Etheridge, social media aficionado, to learn more about his experience.
Bob Etheridge's background has been primarily in the online recruitment and job board industry. In 1999, he co-founded JobCircle.com, a regional job board in Philadelphia and 2003,  started a physical Job Fair division for the company, thus entering the event production and  marketing world. The economic downturn and lack of hiring had a large impact on the business, so in May, they took their event production experience and created a B to B conference called Social Media Plus, capitalizing on the growth and interest in Social Media. Bob can be reached at [email protected].
1) We both belong to the same LinkedIn Group and you mentioned how you increased membership to a group you were managing for a conference. Can you provide an overview of what you did?
Yes, creating a Linkedin Group is easy enough, inviting your first degree connections to join the group is also relatively easy.  However, growing your group quickly after that becomes a challenge.
November 21, 2022 – Per Bob's request, I have replaced the previous text with the below two paragraphs:
We utilized a service called Community Leadership offered by a company called Network Sunday. Network Sunday has virtual assistants that can help you with your Social Media marketing outreach. Network Sunday works with business development  and conference marketing professionals to leverage Linkedin to help grow communities, create awareness and build personal and professional brand.
By joining relevant, Industry specific Linkedin groups using the Advanced People Search engine on Linkedin, we created a targeted list of members who would most likely be interested in learning about Social Media and networking with other Social Media Marketing professionals. We then invited these people, through Linkedin, to join the Social Media Plus Conference group using a simple, straight forward message. The campaign lasted for approximately 2 months before the conference.
2) Besides LinkedIn, did you use any other marketing and social media tactics? If so, how did you leverage these tactics for driving attendance. 
Yes, we created a Facebook page and a Twitter account for the event. While Twitter was a great tool for communication during and after the conference with our #SMPlus hashtag, neither produced significant results in driving attendees.
3) What was the result of your efforts?
The response was phenomenal. In 2 months, our Conference group grew from 50 members to around 1800 and over 700 people attended the conference.  We did some traditional marketing such as direct mail and e-mail marketing, but Linkedin was the most effective marketing tool by far. We tracked the click through bit.ly URL's, measuring the use of unique coupon codes that we offered and by comparing the final attendee list to our Linkedin Group members. 450 attendees had joined the Social Media Plus Linkedin group prior to the conference. (Disclaimer – Bob was so impressed with the results that Network Sunday provided, he is now the US Partner helping other conference organizers in their Marketing efforts).
4) What three tips would you provide to those seeking to use social media to promote their conference?
 1) Social Media Marketing is a two way street. Be prepared to spend time communicating directly with your audience.
2) Don't over sell in your Marketing message. Less is more in this case. People want to explore and learn things on their own. If they have specific questions, they'll reach out to you.
3) Don't go it alone. Social Media Marketing can be time consuming and often companies start off with a bang, but burn out quickly. Social Media Marketing is a marathon, not a sprint.
About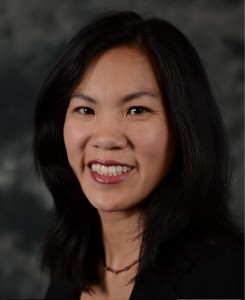 Cece Salomon-Lee is director of product marketing for Lanyon Solutions, Inc. and author of PR Meets Marketing, which explores the intersection of public relations, marketing, and social media.
This blog contains Cece's personal opinions and are not representative of her company's.
Marketing Blogs
Virtual Events & Meetings Blogs
Cisco Virtual Environments
Search Site