Browsing articles tagged with " pr"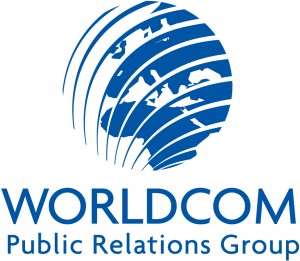 Guest Post by Cortney Rhoads Stapleton, SVP and head of the Professional Servies Practice at BlissPR New York & Aven L. James, Account Supervisor at BlissPR in New York City
While most people have made their resolutions and predictions, there is still snow on the ground in NYC, so we feel that is our free pass to add our contribution. This is a synthesis of the thoughts from members of the B2B Practice Group of the Worldcom Public Relations Group, the world's largest network of independent PR firms. In conversations with Worldcom partners in North and South America, a few trends emerged about the direction of our profession in 2011: Continue reading »
For nearly 3 years, I've been writing about PR, marketing, social media, and most recently virtual events. At times, I've been very prolific and other times I've gone weeks without a post. As a commitment to myself and to you, my readers, I wanted to share some updates for the site in a short video message that I hope will make the blog more useful for you.
Briefly, I am enacting an editorial calendar to help develop a schedule of posts and expectations. My writing schedule will be Mondays (virtual events), Wednesdays (pr, marketing, social media), and Fridays (PRMM interviews with industry experts).
I also want to invite you to submit your ideas for potential blog topics and interview subjects (email or video). Here are some high-level bullet points on what I'm looking for in guest posts, interviewees and/or blog ideas, such as surveys highlighting key trends, case studies that demonstrate ROI, interesting case uses of technology, someone who is truly visionary, etc. 
But, most importantly, read my past posts first before connecting with me.
If you're interested, please drop me a note either in the comments or via email. I look forward to hearing from you and watch here for future announcements.
From January 12-13, 2011, hundreds of people will gather in Las Vegas and online to attend the Virtual Edge Summit 2011. I have had the pleasure of assisting the Summit in their public relations and marketing efforts. While I have done PR and marketing activities as a vendor exhibiting or speaking at an event, this was an interesting opportunity to help drive awareness, conversation and ultimately registrations for a conference of this sidze (not including corporate webinars and virtual events).
With the conference a week away, we will not have a full sense of the results until after it has concluded. With that said, I wanted to highlight three strategies and tactics we used (are using). While this doesn't encompass everything we did/are doing for the Summit, it does provide a look under the covers:
Key Objectives
1. Drive Brand Awareness: This year, the Virtual Edge Summit expanded its program beyond virtual events, meetings and conferences to incorporate virtual learning and training. This opened up the Summit a potential new pool of attendees within the elearning and training spaces. Our goal was to continue driving awareness within the meeting and events industry, while introducing the Summit to this new space.
2. Increase Engagement: We wanted to build on the 2010 efforts to further involve our audience – both virtual and physical – with the Summit. This would help generate word of mouth amongst our key audiences and hopefully reach new target audiences.
3. Grow Registrations for In-Person and Virtual Attendance:  And of course, part of the success would be measured by the number of registration for the in-person and virtual versions of the event.
Key Tactics
1. Focus on Public Relations: My foundation is in public relations, so this was a natural area to focus our efforts.  In addition to the general press releases about keynote speakers, new sponsors and the program, we looked at how we can generate discussion in the industry, while promoting the Summit. For example, we decided to develop an infographic that summarized the key virtual events industrystats from 2010. The purpose was to provide the industry with a visual way to synthesize the progress that virtual had made over the past 12 months. In addition to posting to the Summit blog, we contacted key reporters, industry bloggers, and sponsors. The resulting blog posts and discussion around the infographic keeps the Summit and Virtual Edge Institute front and center.

2. Start and Seed a Summit Blog: Our speakers are the innovators within the virtual events and learning industries. We started a blog and invited our speakers to submit 300-400 word blog postings related to their presentation or industry. With a dozen speakers taking up the offer, this provided credibility to the blog, allowed us to generate relevant content quickly, and distribute this to a wider audience through speaker promotion. At this writing, our hope is to continue the blog to drive the conversation until the next Summit.

3. Social Media: While Twitter was leveraged last year, we drafted a more formal strategy for our social media program this year.

a. The cornerstone will continue to be Twitter, assigning each room with a unique hashtag to receive questions from the audience. We also created Twitter lists of attendees, speakers and sponsors to recognize all the different audiences supporting the Summit. Finally, we reached out to speakers and sponsors to promote their participation at the conference, which generated many tweets leading up to the conference over the past few days.

b. We researched groups in learning, training, events, conferences and meetings on LinkedIn.  Following group guidelines, we posted information about the Summit, participated in appropriate discussions,  and/or started discussions.

c. With regard to Facebook, this is being leveraged as an alternative way to connect with our audiences. We cross post all blog posts and post questions to solicit engagement. While this part is nascent, we're contemplating using Facebook as the main photo archive for the Summit and inviting virtual attendees to post photos of where they are attending the Summit to the page.
Wish Us Good Luck
While this doesn't cover everything we've been doing, I'm pretty happy with what we've been able to accomplish so far. If you're interested in checking out the summit, you can register at http://www.virtualedgesummit.com/registration_reader. The interesting aspect is that the Summit will have ten different technology vendors streaming the content. The idea is to provide people with a choice and way to evaluate different ways of holding a virtual event.
In the post-event summary, I'll highlight some other unique aspects of the event, initial results and some areas of improvement.
And I'll also be one of the virtual hosts to bring content live from the exhibit show floor to the virtual audience! (wish me luck)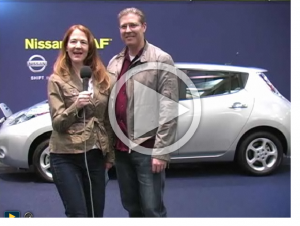 My husband and I are huge electric car enthusiasts, but not as much as our friends Amy and Andrew. I was curious when they asked me to vote for their video for a chance to win a Nissan Leaf (click on the image to the left to launch their video). I personally think their video is great =) and a great way for Nissan to drive interest in their first generation Leaf.
The contest rules are pretty straightforward: Schedule a time to test drive the Lead, record a video and promote it to friends and family for votes. A winner is selected from the various regions, with one winning the grand prize – a quiet car that will sneak upon you with no warning.
While this is a great way to drive people to the event, grow its list of prospective buyers, increase engagement, and spread the word, here are my recommendations to make this an event better contest.
1) You can share the video via Twitter, Facebook and email, but there was no way to embed the video to blogs and websites. Hence, why I did a screen capture and link to the video.
2) While the link takes you to a single videos, there is no video gallery to view entries from a single event. By having a centralized gallery, Nissan could leverage it's marketing weight to segment email lists and encourage people to vote for the best video. This could also drive interest in the contest itself. Instead, the contest depends on individuals to spread the word.
3) I'm actually on the Nissan Leaf mailing list and received emails about the Nissan Test Drive tour. But I had not heard about this contest until the email from my friends, who had scheduled a test drive. My assumption is that the contest wasn't well integrated with the other marketing channels for the Leaf – email marketing, PR (first person who received a Leaf in the Bay Area made the local news), etc. Bringing these channels together could provide Nissan with great word-of-mouth, especially as this first generation of electric cars roll out.
What do you think? And don't forget, Vote for Amy and Andrew now! I want to be the first to ride in the car!
This past weekend, a story unfolded in the San Francisco area about a Santa Claus, known as Santa John, who was fired from his 20-year job at Macy's. The issue was about a joke that Santa John told two adult customers sitting on his lap (that's another issue altogether =). He had said the joke often but this one time got him fired as the customers objected to his "knowing where all the naughty boys and girls lived."
Now begins a story that pushes Santa John into the limelight, positions Macy's unfavorably to a world audience, and takes a beloved watering hole, Lefty O'Douls, front and center.
Macy's Continued Silence
In any other case, the firing of a Santa who told a raunchy joke would have blown over for Macy's. However, this was a situation in which Santa John has been the face of Christmas for the Macy's San Francisco flagship store for the past 20 years. As such, Santa John holds an emotional tie to many in the community which has further propelled this story beyond the Bay Area community.
And throughout all this, Macy's continues to stay silent on this, considering this a "personnel matter".  And this is Macy's biggest mistake. The company has failed to recognize this as a unique situation. This was an opportunity for the company to highlight their high quality of service to all customers and that they take customer satisfaction seriously. This was an opportunity to apologize for their mistake, acknowledge the 1,000 of emails and letters to rehire Santa John back, and hold a large cermony on Santa John's return to demonstrate Macy's Christmas spirit.
Rather, by remaining silent, Macy's is seen as a harsh employer who fired a beloved holiday icon over one complaint despite 20 years of loyal service.
Lefty O'Doul's Saves Santa
If you've been to San Francisco, it's very likely you've frequented Lefty O'Doul's, a bar off Union Square. As the story unfolded regarding Santa John, the management at Lefty's did a brilliant move of offering Santa John a job at the bar – double the pay and a bigger seat.
While there have been job offers for Santa John, this one captured the local media's attention: local angle, well-known bar establishment located blocks from the very same Macy's store, and better benefits for Santa John. And best of all, permission to tell all the jokes he wants.
This move is what David Meerman Scott highlights in his book "Real-Time Marketing & PR: How to Instantly Engage with Your Market, Connect with Customers, and Create Products that Grow Your Business."
Conclusion: The Holiday Spirit
The story of Santa John provides a blueprint on how brands, both small and large, should and shouldn't handle communications issues. In the new era of transparency, Macy's could (should?) have been more open and willing to admit a possible mistake. In the end, Lefty's demonstrated a holiday spirit that benefitted Santa John and inevitably drive more traffic and business to Lefty's.
And in a time when money is still tight and customers more selective, I suspect that the San Francisco Macy's year-over-year sales and traffic may dip as a result.
What do you think?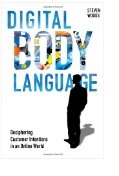 Over the past 10 years, we have seen the Internet and now Web 2.0 and social media technologies drastically change how marketers and public relations professionals engage with prospects, customers, employees and influencers online. As much of this interaction is being done online, the challenge is how marketers can "read" the digital signals  to determine interest and intent. In a nutshell, how to provide the right information, to the right person, at the right time.
That is the premise of Steven Woods' book, Digital Body Language. As co-founder of Eloqua, a marketing automation company, Steven  provides insight into how marketers can translate these digital signals to increase the effectiveness of their marketing programs.
While the book is written with the marketer in mind, PR practitioners can benefit by reading this book as well. The step-by-step look into the customer's digital psyche will help PR professionals understand the challenges that their marketing counterparts face. PR can help marketers understand behavior triggers; thereby recommending strategies, content and programs that drive these objectives forward. PR moves from being a "brand awareness" vehicle to a strategy that can pinpoint why and what will impact a customer's behavior and interest.
For example, most executives want to business coverage regardless of how this coverage will or will not impact the bottomline. Yet, you strongly recommend a vertical program based on budget, time and objectives. If you can highlight how a vertical outlet program drove X% interest  target prospects which uncovered $X in sales opportunities for a similar client, then not only will C-Level executives pay attention, but PR will also earn a seat at the table.
Isn't this a strong value proposition?!
Conclusion
Steven provides marketers an understanding of the new digital body language. His approach is straight-forward with case studies to provide real-world implentation stories combined with helpful tips. I recommend this book for all PR practitioners and those entering the marketing field.
Let me know what you think of the book below in the comments or if you have any other must-read books.
I met Steven Woods at the Eloqua Experience 2010 Conference in October 2010.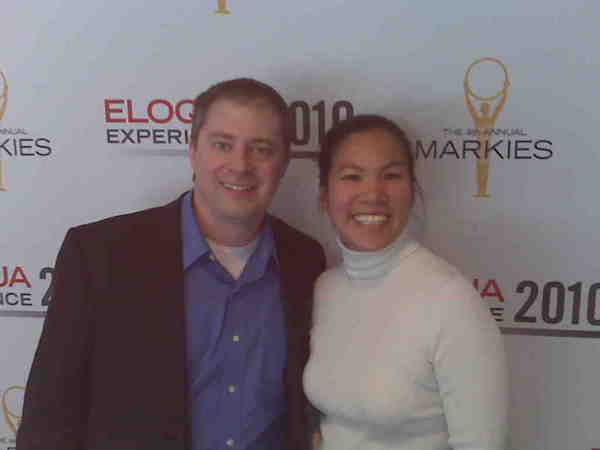 When kick-starting a PR program, the main challenge is creating awareness about the company, executives and products/services within the industry and to prospective customers. In the pursuit of immediate results, the tendency is to pitch and secure media coverage about the features and functions of a product or solution. And based on this initial success, subsequent PR efforts solely focus on product upgrades, improvements and other similar "speeds and feeds" details.
However, focusing on speeds and feeds has its drawbacks:
* Elevating product over value proposition. Your company becomes known for the product features and functions versus the value proposition that your company solves, which
* Pigeon-holes your company in the minds of your customers, prospects and influencers. This creates a situation where you have
* Minimal thought leadership compared against your competitors.  Your company is seen as providing a specific product versus positioning your company executives as thoughts leaders who are driving the industry forward.
* And this hinders your consultative sales efforts. Your salesforce requires sales materials that highlight how your solutions, services and products solve a business problem. By focusing media coverage on features and functions, your not arming your salesforce with the right tools.
Conclusion
Let's be clear. I'm not advocating that you favor thought leadership in place of speeds and feeds. Rather, you have to implement the right mix of PR tactics to achieve your PR, marketing and business objectives.
Do you agree or disagree? Are there any other drawbacks?
About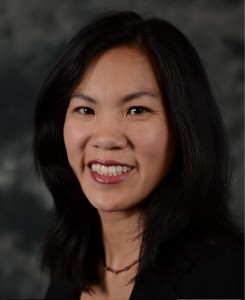 Cece Salomon-Lee is director of product marketing for Lanyon Solutions, Inc. and author of PR Meets Marketing, which explores the intersection of public relations, marketing, and social media.
This blog contains Cece's personal opinions and are not representative of her company's.
Marketing Blogs
Virtual Events & Meetings Blogs
Cisco Virtual Environments
Search Site