Browsing articles tagged with " Social media"
This morning, I sent out a tweet asking for feedback about press release newswires. A few hours later, I received an email from a company regarding news monitoring service. To protect the innocent, the email started:
Cece, thank you for your interest in [company]. Here's some basic information
I was a bit confused as I 1) didn't recognize the name of the company or person and 2) didn't remember downloading/submitting anything related to news monitoring. Curious, and partially to keep a mental note for future reference, I asked how I demonstrated interest in the company. The response?:
"Forgive me Cece, I meant to send this to you referring to your posting on Twitter but failed to.  We monitor mentions of the newswire services and your posting was sent to me as a lead."
Interesting and scary at the same time. While I do see Twitter becoming a real-time source for sales leads, especially when directly related to your product and services, I think there are some best practices to follow:
1. Reference Source: As the sales person acknowledged, he/she forgot to highlight that this was based on my Twitter posting.
2. Relevancy: My initial request was feedback on newswires – not media monitoring. It seems like any post with certain keywords are being forwarded as prospective leads which leads me to
3. Context: Be sure to understand the context of a person's original tweet
4. Tweet Me, Don't Email Me: This is where the big brother part freaked me out. Yes, my email address is on my blog but I used Twitter for a reason. I wanted to get feedback from Twitter. Unless you're a friend of mine, I don't expect a response via email from a stranger – Side note – I don't anticipate a sales person to go through the effort of gonig to my blog for email and since I don't have it on my Twitter profile…how did he/she get my email?!
5. Add Value: To me, Twitter is about engaging in a conversation or seeing what my friends/contacts are doing. If you want to respond to me, add value to the conversation.
In the end, just because you track down a possible lead on Twitter, Linkedin, or some other way, there are certain best practices that sales folks need to practice. What do you think? Any other tips for marketing folks mining social media for sales prospects?
Tweet This on Twitter
Cut and paste this: Twitter used for sales lead prospects – 5 tips for doing this well by @csalomonlee: http://bit.ly/ilL0X
A couple of weeks ago, I met up with Jason Falls of Doe Anderson and Social Media Explorer. After a beautiful meal at Il Fornaio with Jason and his wife, we sat down for a quick video about social media and communciations strategies. Here is a summaryof this video.
Communications Strategy: Traditional and Social Media
* Communications strategies for traditional PR is typically one that looks at talking points and messages we want to communicate via traditional media
* Traditional media is about one-way communciations with the audience
* With social media, traditional media is no longer part of this as now you're going direct to the consumer
* No longer is it one-way communications. It's about how you can create a strategy to communicate these talking points in a conversational way
Different for B2B and B2C?
Not necessarily as B2B is in between the two extremes of traditional media and social media
Regardless if this is B2B or B2C, social media requires a conversation
How can you be nimble in your conversations
Tweet this on Twitter
PRMM Interview with Jason Falls regarding social media and communications strategy by @csalomonlee: http://twurl.nl/a70p7g
When Tiananmen happened, I was just a college freshman – fresh-eyed and away from home the first time in my life. I was just exploring my identity – second generation Chinese born to immigrant parents, seeking to understand how I fit into the world. The incidents in Tiananmen were eye-opening, shocking and maddening at the same time.
Fast forward 20 years. The anniversary sort of crept up on me. There is barely any mention of the anniversary on TV. Somehow, this incident has been swept away as the Chinese government has expertly positioned itself on the world stage over the past years and the success of the Beijing Olympics.
It's interesting to hear the lengths that the Chinese government is going through in advance of the anniversary.  Social networking sites, such as Twitter, are being blocked to stem the flow of information coming out of China. In a way, they are the best in our profession – the ability to control a message and put out the one that they want.
In 1989, this wasn't the case. The government was unsure how to manage the spontaneous marches that took place and youthful excitement of the student leaders seeking change. Rather, their knee-jerk reaction resulted in the deadly incidents on June 4. The moment of transparency and openness was quickly closed.
While the Chinese government attempts a blackout in the coming days, I hope the voices of those able to leave China will serve as a reminder to those incidents 20 years ago this Thursday. Surely, no one government can completely block out the voices?
What lessons can we learn from Tiananmen and the Chinese government's actions?

During Web 20 I had a very interesting conversation with John Welsh of UMB Live. He mentioned (and has a post) that he blocks anyone not directly related to social media and his direct interests from following his tweets. This is in direct contrast to the recent CNN and Ashton Kutcher race to 1 Million followers.
For John, this enables him to know exactly who everyone is and provides a higher quality community. While this makes sense I'm not sure about blocking everyone. In my case, I don't mind who follows me as this doesn't IMPACT me versus if I "followed" all of these folks.
What is you goal?
I think it comes down to what your goal is. For John having higher quality is important. For a celebrity like Ashton this provides a direct link to his fans. For me, my goal is to educate people on marketing, public relations and social media.
For B2B Businesses I think you have to strike a balance. I would recommend blocking any blatant "spam" accounts and being selective on who you follow.
But my competitors…
Some have asked about blocking competitors. While you can block them from following you, you can't stop them from searching on you and getting those updates. In the end, Twitter is a public avenue for connecting with people and engaging in an open dialogue. I think private Twitter defeats that purpose.
If you're concerned about competitive issues, then don't use Twitter.  That's frankly what instant messaging and email are for.
Conclusions: Block with a strategy in mind
As with everything you need to fully consider your strategy for Twitter and how blocking followers with this. Furthermore, blocking may have a negative impact if you accidentally block someone from your target audience. I'm going to take the conservative approach. I will begin blocking anyone blatantly a spammer (britneyspearsbuzz watch out!) but will keep everyone else.
What do you think – to block or not block is the question?
Tweet This on Twitter
To make this easier, just cut and paste the following:
Should you block your Twitter followers by @csalomonlee: http://twurl.nl/z3mazo
All content copyright Cece Salomon-Lee, Creative Commons Attribution-Noncommercial-Share Alike 3.0 Unported, with the attribution: By Cece Salomon-Lee, PR Meets Marketing, and a link to the post.
First, let me tell you, reading this book made me tired and glad that I'm part of Generation X. Don't get me wrong, I agree with Dan Schawbel, author of Me 2.0 and personal branding guru, that personal branding is more important than ever to differentiate yourself from the crowd.
I'm just amazed at how much Dan has done all by the age of 25!
Personal Branding – Not Just for Millennials
Me 2.0 is book that highlights Dan's success in personal branding, providing a blueprint for identifying, creating, and harnessing the key elements of a personal brand. Though Dan is a millennial, many of the points in his book are relevant to individuals of any generation.
College students – how to differentiate yourself from the crowd, create the opportunity for your job future and secure the job of your dreams
Recently laid off – how to leverage social media to create your digital persona and brand while judiciously networking to find the opportunities right for you
Everyone else – how to take your passion and become a rock star
Three Questions for Dan
1) Your book gives a lot of advice on personal branding. How do you maintain the balance of networking without seeming too aggressive?
Successful networking comes from viewing it as a long term relationship, instead of a one night stand. I used to force relationships to try and get press and that failed miserably. Now, I'm older, wiser and more experienced, so I know that the people you give value you to help first, will support you right back.
2) Over the past few months, the unemployment rate has increased dramatically in the US. If you could add another chapter in Me 2.0 to address the number of unemployed workers out there, what would you add and why?
I wouldn't really add anything. The same advice is going to apply regardless. The key is the build up your online assets as much as you can before you need to leverage them for a job or another opportunity. This means getting thousands of Twitter followers, Facebook friends, contacts on LinkedIn, etc. It's another way of saying "you should network before you need to."
3) With technology changing so quickly, what do envision as the next area for personal branding?
Personal branding is all about the individual. While technology rapidly changes, personal brands stay consistent. I see us having new technologies in the future that let us interact at even faster rates than Twitter. In turn, they will make us even more productive and force us to be more cautious about what we put online.
Conclusion
While I don't believe that social media will get you the job, I believe reading Dan's book will ensure that you're noticed in the right way for your dream job.
As I mentioned in my post about tips for your youtube video, I am experimenting more with the power of video. When possible, I will interview interesting individuals and their marketing (this includes social media and public relations) campaigns. My inaugural video is with Jeff Stai, Owner of the Twisted Oak Winery. He is known as @eljefetwisted on Twitter and El Jefe on the El Bloggo Torcido (Twisted Oak blog).
Jeff is a very personable guy and I think this personality is the key to his winery's success. He has developed a loyal following of wine lovers (I'm a new fan) through social media. To me, the net net of Jeff's success is that social media allowed him to connect with his fans and create a community that is engaged with the winery.
Isn't that what ALL of us are trying to do with marketing?
Over the past few weeks, I've been experimenting more with video. It's visual and can communicate a lot in a short span of time. I want to share three tips that I've learned over the past few weeks for your http://www.YouTube.com/ videos.
The Quality Vs. Content Dilemma
There are two camps on the quality of the video versus the content. Some insist that the video be high-production quality while others (like me) believe that slighter lower quality with good content is fine. I prefer the latter because I've seen videos held up because of delays with production. By the time the video is "production quality," you may have missed an opportunity to lead with quality content.
I argue that as long as you have quality content, your viewers are willing to sacrifice a little quality.
Engaging Spokesperson
When doing a video, the spokesperson is just as important as the content. You may have the best content but if the person is unable to deliver it convincingly and in an engaging way, people may stop the video and go elsewhere.
Distributing the Video
The last part is how to distribute your video. I've personally defaulted to YouTube and I believe that YouTube is becoming a place for business videos too. For those who may not want to watch the video, consider writing an accompanying post that summarizes the key points. Instead of a social media press release, I recommend issuing a press release that points to a page that has the video on your website alongside with other relevant content.
Conclusions
Since starting my new job, I haven't had much time to devote to my blog. To me, video may be a way for me to capture my thoughts and introduce you to folks in the industry as well. Let's see how this works. What do you think? Do you like the videos or prefer my written posts?
Side Note – Flip mini HD
So I just bought the Flip mini HD to post higher quality video while not breaking the bank. I like the little camera, but I thought I had uploaded a HD quality video. Because the Flip software doesn't have many editing options,I imported the video to the Windows Movie Maker program that came with my computer. The video played well on my computer but I lost something as it was uploaded. I think I may take a page from my friend John Welsh, who just records and posts the whole video without any editing.
About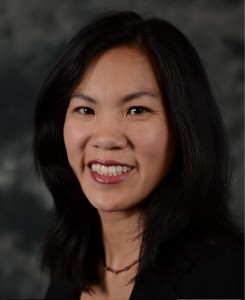 Cece Salomon-Lee is director of product marketing for Lanyon Solutions, Inc. and author of PR Meets Marketing, which explores the intersection of public relations, marketing, and social media.
This blog contains Cece's personal opinions and are not representative of her company's.
Marketing Blogs
Virtual Events & Meetings Blogs
Cisco Virtual Environments
Search Site