Browsing articles tagged with " blogging"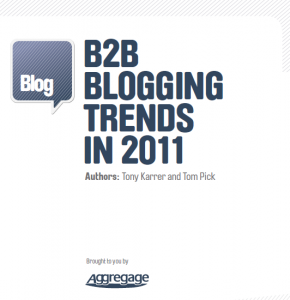 With the prevalence of microblogging and status updates via Twitter and Facebook respectively, the question  is whether or not blogging is a worthwhile endeavor for B2B marketing. In Brian Solis' "The State of the Blogosphere 2010," post, he writes:
"What might have started as a form of self-expression has officially graduated into fully fledged self-actualization. 30% of corporate bloggers admit to blogging as a way to get published or featured in traditional media. 57% of self-employed bloggers share their expertise and thought-leadership as a way of attracting new clients.  Across the board however, the preponderance of bloggers speak their mind to meet and connect with like-minded people. Blogs form the basis for the formation of interest graphs, which, for all intents and purposes, represent the next stage of social networking. Close behind, a significant faction of bloggers use the platform to speak their mind as tied to areas of interest, specifically hobbyists, part-timers and the self-employed"
The posts that I learn the most from are by those who are willing to show their mistakes and what they've learned. This not only humanizes them but also makes us feel just a little bit less stupid!
While there are a lot of posts about how to pitch a blogger, I thought it would be an interesting twist to list the top five mistakes I've made a la Letterman style:
My Top 5 Pitching Blogger Mistakes
Number 5: Oops – I thought that was MISS Blogger, not MISTER Blogger
Number 4: Spellcheck is a wonderful technology…when you USE it
Number 3: I'm not stalking you honestly. Could you just puhleeze respond to me?
Number 2: Sorry – didn't realize you just wrote about this… yesterday!
And the number 1 mistake that I've made pitching a blogger:
Who cares about YOUR interests, it's all about ME
What mistakes have you made? Bonus points for your Letterman style list!
But if you're interested in more information about how to pitch, check out my page about pitching bloggers and 8 Practical Tips for PR and Blogging Outreach.
technorati tags: blogging social media pr marketing public relations pitching bloggers media relations
del.icio.us tags: blogging social media pr marketing public relations pitching bloggers media relations
icerocket tags: blogging social media pr marketing public relations pitching bloggers media relations
All content copyright Cece Salomon-Lee, Creative Commons Attribution-Noncommercial-Share Alike 3.0 Unported, with the attribution: By Cece Salomon-Lee, PR Meets Marketing, and a link to the post.
Uncategorized
I went to the blogger social last weekend in New York and was it an event. I was amazed at how 80 bloggers came together to meet, chat and get to know one another. I have to admit. I knew who some of the folks who were in the room through my RSS feed or twitter. But I didn't recognize most at first (I should blame it on jetlag!). I should have read bios and checked out everyone's blogs. Heck, many SHOULD have been on my feed to begin with.
Despite this, I found the event fantastic. I met so many smart and funny folks. And now my husband is thinking of starting his own blog. Save me now…
I'm already planning to meet folks at Ad:tech next week. The friendships forged truly highlight the benefits of writing a blog. Yes, yes – people are making money or seeking to drive business via blogs, but the relationships are more valuable in the end.
I would love to attend the next social. Rumors are leaning toward Europe. That may be a stretch, but you never know. As I come down from the Blogger Social 08 High, here is what I'm thankful for:
CK

,

Drew McLellan

 and 

Lori Magno

for planning an awesome event.
All the companies who donated awesome swhag – Jim Beam via

Jason Falls

, MarketingProfs membership via

Ann Handley

, Ideablog and others I can't remember.
All the authors (or their publicists) who donated their books and just increased my reading list for the next year –

Geoff Livingston

(aka I am Joe Jaffe),

Rohit Bhargava

, Tsufit, John Rosen/AnnaMaria Turano, Steve Cone, Tom Asacker, and Brian Reich/Dan Solomon.
For providing me with enough T-Shirts that I can ruin with pain, backyard gardening and more.
Most of all, thanks to all the awesome bloggers who came to the event:
Susan Bird Tim Brunelle Katie Chatfield Matt Dickman Luc Debaisieux Gianandrea Facchini Mark Goren Gavin Heaton Sean Howard CK Valeria Maltoni Drew McLellan Doug Meacham Marilyn Pratt Steve Roesler Greg Verdino CB Whittemore Steve Woodruff Paul McEnany Ann Handley David Reich Tangerine Toad Kristin Gorski Mack Collier David Armano Ryan Barrett Lori Magno Tim McHale Gene DeWitt Mario Vellandi Arun Rajagopal Joseph Jaffe Rohit Bhargava Anna Farmery Marianne Richmond Thomas Clifford Lewis Green Geoff Livingston Kris Hoet Connie Reece Cece Lee Toby Bloomberg Seni Thomas Darryl Ohrt Joe Kutchera Paul Dunay Marshall Sponder Chris Kieff Tara Anderson Jason Falls Paul Soldera Roberta Rosenberg Saul Colt Todd Andrlik Nathan Snell Ryan Karpeles Mike Sansone Jennifer Laycock Neil Vineberg Cam Beck Mike Arauz Matthew Bailey Heather Gorringe John Rosen Cathleen Rittereiser Tamar Weinberg Rita Perea Linda Sherman Matthew McDonald Kaitlyn Wilkins Terry Starbucker Jennifer Berk Jane Quigley John Wall Scott Monty Kevin Horne Virginia Miracle Amanda Gravel Susan Reynolds David Polinchock Shashi Bellamkonda David Berkowitz Vahe Habeshian
The Weekly Articles list is back! Thanks for everyone's patience as the last few weeks have been a bit hectic. I frankly haven't been able to get through my RSS feeds, which at one point, numbered over 600.
I will now try to keep up with my blogging duties in the future =):
Bordering Cultural Differences – AdAge highlighted the issues of cultural advertising in an increasingly global world. Frankly, I thought this was funny and was obviously meant for a specific market.
A Selling Blog – HubSpot's Small Business Blog is one of my favs for getting useful tips. This recent posting provides anecdotal examples of how the company's blog has helped the sales process. This is a great example of how a blog is helping a B2B company.
Inside the Media Blogger – I couldn't get to the full interview referenced in this posting from PR Communications. However, the interview tidbits provided in the posting give you an inside look at how reporters view blogging.
It's the Content Stupid – The Flack highlighted that sometimes it's not the format of the press release that attracts attention, it's the content within.
technorati tags: Advertising Blogs Blogging Blogger Pitching Weekly Articles
del.icio.us tags:
Advertising
Blogs
Blogging
Blogger Pitching Weekly Articles
icerocket tags: Advertising Blogs Blogging Blogger Pitching Weekly Articles
Better late than never – here is this week's of interesting articles. You can click on the Weekly Articles tag for previous issues or subscribe to the Weekly Articles Feed:  
What Consumers Really Use Media – Via KD Paine's blog, I saw this tidbit about Ketchum's new survey. The survey highlights where consumers turn to for information and advice. Here's the gist of the results: "Despite the strong evidence that friends, family and experts play a key role in influencing decisions, only 24 percent of communicators report having a word-of-mouth program in place." 
Refresher Course for Blogging – Robin Good posts this primer from Joshua Porter. Joshua provides his nine tips for blogging. As communicators/practitioners/marketers, I think it's key to understand how bloggers are constantly seeking to improve their blogs. And personally, I liked Joshua's tips! 
To Astroturf, Is to Be? – Now is Gone is fast becoming one of my favorite PR related blogs. In this post, Ike highlights that astroturfing is just part of our human DNA. In the great words of the Borg "Resistance is futile" – or is it?  
Take a Community to Build a Social Network – Toby Bloomberg shares 12 tips for creating a social networking community. Very solid tips for any company wanting to create a community.  
The Great Twitter Experiment – As many may have heard by now, Jeremiah Owyang started an interesting experiment earlier this week. Jeremiah's twitter post helped many people find each other, including yours truly. Check out my post about this as well. 
When Blogging Isn't for Everyone – This comes courtesy of the Influential Interactive Marketing blog. Seems like Scott Adams of Dilbert fame is realizing that a blog may not be the best outlet for achieving his goals. In this case, Adams had some goals for his blog. As Rohit states: "Free or not free, if your blog ends up having a different voice than what your audience expects, then you may need to come to a similar realization about your blog."  
Social Media in China – Da Jia Hao! (Hello Everyone!) – I will always have a soft spot for China and Taiwan. Buzz Bin brings us an interview with Debbie Weil and the growth of social media in China. Don't underestimate China. Just because the media and information is supervised doesn't mean it will curtail participation by individuals. People have learned to adapt within the unsaid rules of the culture.  
An Evolved CMO –  I found this interesting CMO research from Forrester interesting as it may help to understand what a CMO's ultimate goal is. And heck, maybe we can help with this as well! 
technorati tags: Astroturfing Blogging Buzz Bin China CMO Consumer Debbie Weil Forrester KD Paine Marketing MasterNewMedia NowIsGone Robin GoodTwitter Social Media Social Network Weekly Articles
del.icio.us tags: Astroturfing Blogging Buzz Bin China CMO Consumer Debbie Weil Forrester KD Paine Marketing MasterNewMedia NowIsGone Robin GoodTwitter Social Media Social Network Weekly Articles
icerocket tags: Astroturfing Blogging Buzz Bin China CMO Consumer Debbie Weil Forrester KD Paine Marketing MasterNewMedia NowIsGone Robin GoodTwitter Social Media Social Network Weekly Articles
Here is this week's of interesting articles. Have a great Thanksgiving. Yum Yum, I can taste them giblets now! =) You can click on the Weekly Articles tag for previous issues or subscribe to the Weekly Articles Feed:
The Power of 150… or Not? – Mack Collier of Viral Garden brings up a good point of how AdAge is leveraging the Power of 150 list. Maybe it's a case of another company not understanding the full power of social media? 
<What do Tulip History and Web 2.0 Have in Common? – Check out this humorous history lesson from mrontemp blog. Thankfully, I don't like flowers – my lucky husband!
Going Deep into the Blogosphere – David Meerman Scott highlights an interesting site – DeepBlog.com – for finding popular blogs in certain niches.  
Astroturf Can Burn Baby –  John Blossom of Shore Communications writes about PR agencies still working their way around social media. He highlights the issue of "astroturfing" – pretending to be a satisfied customer when posting online. My perspective – learning about social media is no longer an excuse for doing one's homework and understanding the rules of the road. 
Lessons on Customer Service – Jeremiah of Web Strategy put up an amusing post about his experience with Real, Delta Airlines and PeopleSoft. Sometimes, it's good to pay attention to what is being said about your brand online. Kudos to Real for responding so quickly.  Now only if Jeremiah can help me with Citibank's stupid emails – read my rants here, here and here. Jeremiah also retells a story about his Uncle Ted's experience working with prospects. You never know who will become your best customers.  
And When Negative is a Positive – Marketing Pilgrim provides an interesting perspective on the power of negative reviews. They demonstrate that your customers care enough to write a negative review and can even provide good competitive intelligence on competitors. 
PR's New Tools – This article comes courtesy of the Marketing Profs Daily Fix. Looks at how multimedia can enhance your PR program. All good advice – so who's going to do all of this work! =) 
SMRs for New PR? – Lena West of InfoWorld highlights the pros and cons of the social media release. And in her wise words, "And remember, no amount of 'social media-ization' can make a news release exciting. A crappy news release is still a crappy news release."  
Technorati Tags: Astroturfing Blogging Customer Service Marketing Pilgrim MarketingProfs New PR PR Public Relations Social Media Social Media Press Release Web Strategy The Viral Garden  Weekly Articles
Here is this week's of interesting articles. You can click on the Weekly Articles tag for previous issues:
Dell Pulling Out All the Stops – According to Now Is Gone, Dell is taking social media/conversation a step further with the launch of Dell Shares – an investment relations related blog. Maybe transparency and conversation is currency for this economy. Hmmm, consider buying some Dell stock.   
Digging It – Pro Net Advertising provides some simple tips for creating an interesting digg title. I haven't tried venturing onto Digg yet, so if you have other helpful hints, let me know. When New Best Practices are Old – CK brings up a good point about a recent B2B marketing best practices report that was just published. From her perspective, these reports merely add to the echo chamber of what is believed to improve a product launch, versus truly unveiling best practices on what is happening around us. She plans to unveil her top ten best practices shortly.
Ninja Tracking Skills – I just started reading Distilled and they're providing me with some interesting tricks for tracking web traffic. Very nifty indeed. So where's my num chucks and stars…
What Does Language Say About You? – Lois Kelly posted an interesting article on the IAOC Blog. Lois points out how our writing reflects who we are. She analyzed writing from three different CEO blogs and brought up some interesting points.   
Socializing Within the Enterprise – Read/Write Web has an interesting article about the use of social networking within the enterprise. This article raises what tools can/should be used in the enterprise and when. Personally, just more ways to have information overload =)
Brand Consumer for the Fan-sumer –  Jeremiah Owyang does a great breakdown on MySpace and Facebook. This raises interesting questions for the brand marketer in each of us.  
Search and Ye Will Find – First, congrats to Tom Pick for being named one of the top marketing blogs to watch. His article about how to truly leverage SEM is just an example of his approach to B2B marketing. Congrats again Tom!  
Technorati Tags: B2B Marketing blogging Facebook Linguistics marketing PR public relations search marketing social media Social networking web traffic Weekly Articles
About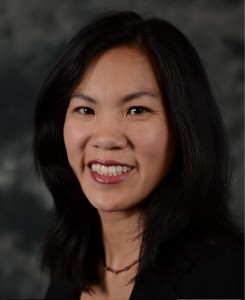 Cece Salomon-Lee is director of product marketing for Lanyon Solutions, Inc. and author of PR Meets Marketing, which explores the intersection of public relations, marketing, and social media.
This blog contains Cece's personal opinions and are not representative of her company's.
Marketing Blogs
Virtual Events & Meetings Blogs
Cisco Virtual Environments
Search Site