Browsing articles tagged with " Business-to-business"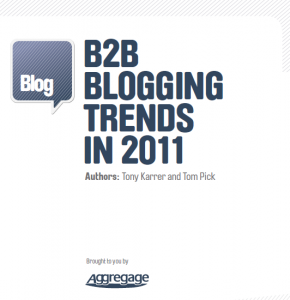 With the prevalence of microblogging and status updates via Twitter and Facebook respectively, the question  is whether or not blogging is a worthwhile endeavor for B2B marketing. In Brian Solis' "The State of the Blogosphere 2010," post, he writes:
"What might have started as a form of self-expression has officially graduated into fully fledged self-actualization. 30% of corporate bloggers admit to blogging as a way to get published or featured in traditional media. 57% of self-employed bloggers share their expertise and thought-leadership as a way of attracting new clients.  Across the board however, the preponderance of bloggers speak their mind to meet and connect with like-minded people. Blogs form the basis for the formation of interest graphs, which, for all intents and purposes, represent the next stage of social networking. Close behind, a significant faction of bloggers use the platform to speak their mind as tied to areas of interest, specifically hobbyists, part-timers and the self-employed"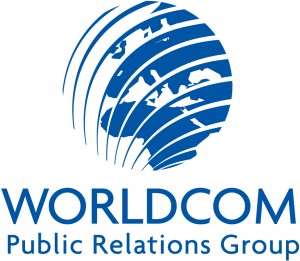 Guest Post by Cortney Rhoads Stapleton, SVP and head of the Professional Servies Practice at BlissPR New York & Aven L. James, Account Supervisor at BlissPR in New York City
While most people have made their resolutions and predictions, there is still snow on the ground in NYC, so we feel that is our free pass to add our contribution. This is a synthesis of the thoughts from members of the B2B Practice Group of the Worldcom Public Relations Group, the world's largest network of independent PR firms. In conversations with Worldcom partners in North and South America, a few trends emerged about the direction of our profession in 2011: Continue reading »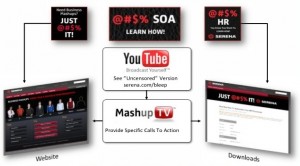 Rene Bonvanie, VP of Worldwide Marketing, Palo Alto Networks, presented on a viral video he created while with Serena Software.  The goal of the video was to increase the use of the company's mashup tools. Instead of creating a "standard" B2B video at the time, the company decided to adopt a more consumer-focused approach of using sex and innuendo.  In essence, they were seeking to create a strong emotional response to the video – either you hated or loved it. I've embedded the original video below.
Starting a Fire
"No long tail in social media. It happens or doesn't." – Rene Bonvanie
 While the video only cost $5,000 to develop, the challenge was generating the fire to start the buzz. The key considerations for Serena Software were:
* How to increase/enable social networking
* Have users push and syndicate the content rather than pushing it themselves
* Coordinated efforts with traditional media and advertising activities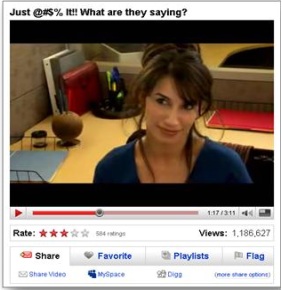 The company first created two versions of the video: a censored version for YouTube which linked to an uncensored version on the company's website. The company then leveraged traditional advertisements on targeted websites that played on the "censored" theme. As the ad campaign continued, media outlets began to pick up on the, at the time, unique campaign.
Simultaneously, the company built a video channel related to the original video. As the views increased for the viral video, other videos also saw an increase in views as a halo effect. 
Questions from the audience
Note: I tried to capture the questions and quote as fully as I could and is not meant to be a "transcript" of what was said. Questions are in purple with the response italicized.
Insights with global marketplace and how to adapt this? One of the things we found is that from a B2B perspective, the audience speak English for B2B.
What was the magic sauce for the video? Sex and innuendo.
Had you thought of anything else besides sex/innuendo? Did take out some of the sex and tried the office/Seinfeld humor. Thought it was done before and wouldn't go that well. Looked at consumer brands to see what they did and to combine those elements with office setting did well.
What was the impact on sales for the video? There were two ways to look at that. At the end of the day was to have people evaluate the software. Got $10 million in sales with $40 million in opportunities and 100,000 to conduct trials.
In conclusion, Bonanvie recommended caution when seeking to create such a video. You have to consider the creative, brand, comments from viewers, and related videos.
Other posts regarding MarketingProfs SocialTech 2010:
* Motorola Case Study to Use Social Media for B2B Event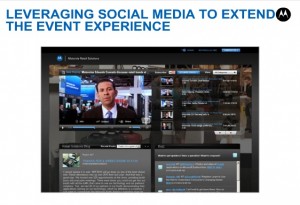 The session I was most interested in attending was the "B2B Events: Build Audience and Extend the Conversation through Social Media" at MarketingProfs SocialTech conferene. Belinda Hudmon, Sr. Director, Interactive Marketing, Motorola, shared how they leveraged social media for their events and to accelerate the sales cycle.
Start with the Customer
Motorola first started from the customer's perspective to understand the pain point and sales cycle. The company levereaged in-depth research, customer insights and detailed personas to help develop digital toolkits to help prospects and customers through the sales process, such as microsites, product tours, website, social media and communities.
Events Key Part of B2B Sales
Events are key part of Motorola's B2B sales but the recession impacted audience attendance (up to 50%+ decline for some key events) , especially since many of Motorola's events were global.  Interestingly, virtual events weren't necessarily the answer as Motorola was cognizant of people's limited time to participate in such an event.
According to Hudmon, they learned that 69% of business buyers use social media to make a purchase decision (Forrester). This, combined with the impact of the recession on event attendance, lead Motorola to develop its "Share the Experience" site. The goal of the site was to expand the experience for the event with video as the core.  They leveraged several social media tactics to seed content and drive engagement:
* Uploaded videos to YouTube
* Had bloggers contributing insights about industry trends and from the industry floor to see what was happening
* Followed Twitter and Facebook to see what was happening via hashtags
* Provided access to initial information on case studies and other content from content sites, social media integration (e.g. flickr), etc.
* Promoted the site via email, twitter, and facebook to give info about the speakers, as well as feed information about the show back to their different social communities
* Recently provided mobile experience as well
Results: Increase Engagement, Thought Leadership and Post-Show Dialog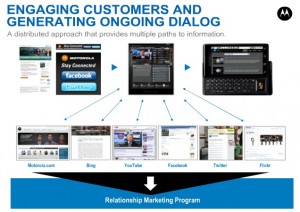 Overall, the "Share the Experience" site helped Motorola to establish a following with their customers, partners and prospects which extended their dialog with these key audiences. This also helped drive Motorola's thought leadership platforms with blog postings and real-time updates from Twitter and Facebook. This has become an integral part of other shows and as a way to launch other thought leadership platforms.
Highlighting the value of archival content, Motorola discovered that 60% of the videos were watched after the event had concluded with 3X more demos completed online overall.
Questions from the Audience
Note: I tried to capture the questions and quote as fully as I could and is not meant to be a "transcript" of what was said. Questions are in purple with the response italicized.
Built the virtual conference platform internally for Motorola. Why internal vs external? Looked at virtual events and one of the issues with virtual events is that people's time is limited. With the "Share the Experience" site, we weren't trying to replace virtual but have an experience before, during or after the show. Have done some virtual that weren't live stream and more on-demand scenario. Have tested the virtual event as an augmentation to events to see live and ask questions.
Social media integration – used corporate Motorola or different accounts within the event? Started by an event site but realized the opportunity was a Motorola site or audience-specific site. As set up the site and interface with it and can have a long-term interaction. So leverage the audience site to interface with event sites as they come online.
Conclusion
Motorola recognized that events were an integral part of their sales process, but the recession greatly impacted attendance at their global events. By understanding their customers – especially that these are time-constrained professionals, the company opted for a website-based experience integrated with social media versus a virtual event.  In this way, Motorola discovered an effective way to drive engagement, thought leadership, and I'm assuming, sales forward.
How are you using social media to drive your B2B events? What other strategies are you using?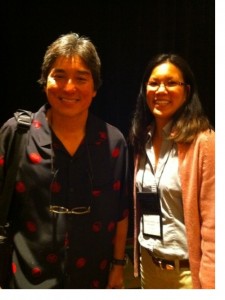 I attended MarketingProfs SocialTech conferenceyesterday, which brought together a great roster of speakers including Jeremiah Owyang, Robert Scoble, Michael Brito, Laura Ramos and more.  The ending keynote was Guy Kawasaki on how to use Twitter for B2B marketing.
I plan to post summaries of the sessions I waas able to attend either today or tomorrow, but wanted to start with Guy's presentation first. Why? Because he decided to give an unusual keynote.
Instead of a straight forward keynote about the strategy of Twitter, he gave a more stream-of-consciousness look into how he uses twitter on a day-to-day basis. After a long day of sessions and enormous amounts of ideas/information, I thought this was an entertaining way to discuss why Twitter is integral for marketing and how to leverage it.
Be Memorable, Be an Expert – Six Tips for Twitter
 1. "Sucking up is key"– Guy's point is that you have to be kind to people on Twitter. This is one of the best ways to get people to follow and retweet you.
The Takeaway: Tweets are just a collection of letters and words. Intent can sometimes be misunderstood. As such, follow the Golden Rule and you will avoid any misunderstandings.
2. Be an expert –Want more followers? Be interesting. To do this, monitor those who are considered experts. When appropriate, share interesting feedback or content to be seen as intelligent contributor. Once they retweet your contributions, you'll then be seen as an expert in turn.
The Takeaway: Be very clear on your messages and how you want to position your company on Twitter. Everything you tweet should be related to this to further position you and your company as an expert.
3. Use search intelligently– There are many ways to use search. The question is which parameters are you using? Consider searching beyond just the content of the tweet to look at profile information (search by title, geography, bio) or even look at tweets to and from a person. This helps you to better do points 1 and 2.
The Takeway: Conduct regular search to identify new influencers within your space.
4. "Tweet is the new haiku" – You only have 140 character. In order to capture attention, you have to be interesting. If you're not the best person, then find someone who can.
The Takeaways: The best person to contribute to your Twitter feed may not even be in the marketing or PR department.
5. Social content curation – One of the controversial issues with Guy's Twitter feed is his use of ghost contributors to his feed. In his keynote, Guys highlights how he collaborates with this group like a managing editor would with his writers. If he sees something interesting, but is unable to tweet or blog about it, he assigns the story to one of the appropriate ghost writers. This helps keep his content fresh while providing a benefit to his readers.
The Takeaway: Twitter never sleeps but individuals do. Instead of one person monitoring your Twitter stream, have a group of individuals within a corporation monitor and response for you customer support or brand management needs.
6. Be like CNN – Don't assume everyone sees your tweet the first time. Consider tweeting 2-3 time during different time zones so the maximum number of followers see your tweet. (Note: according to Guy, this is against Twitter's terms of use. Though he hasn't been terminated for such behavior, he is probably an exception. Hint to Twitter – another way to generate revenue?).
The Takeaway: Marketers are content creators and publishers. In the case of Twitter, what may seem "spammy" may actually be the best strategy to ensure your message is seen and read by your customers, partners, and prospects.
Conclusion
The keynote didn't have a direct way of presenting how one could use twitter for B2B marketing. Rather, Guy shared a collection of ideas and thoughts of his personal use to inform marketers on what could work for them. And depending on your needs, each marketer could walk away with a deeper understanding of how to use Twitter for her own marketing needs – both from a tactical and strategic perspective.
If you watched the keynote (either in person or virtually), what did you think? Do you agree or disagree with me? What takeaways did you have?
With the introduction of Facebook Places, geolocation-based services are about to hit the mainstream. Rather than focus on the news or consumer uses, I want to look at the potential of such services for business-to-business customer marketing.
MarketingSherpa recently wrote about an iPhone app developed by Morrison & Foerster LLP (subscription required shortly). This app allows you to browse bios, get directions to a local office, get news and even play a game. I suspect that one of the main objectives for the company's "MoFo2Go" is to increase customer loyalty and referrals.
Now imagine if you take this type of app to the next level, enabling customers and employees to proactively share their geographic locations with one another. You've created a mobile community where customers and prospects can search, find and connect with others located near them.
And if they are able to preview information, such as company title or industry, they can reach out to your subject matter experts to resolve an issue or get feedback on the company and products. Almost anytime, anywhere.
The potential benefits of such services are:
1. Customer retention: Provides an alternative channel for customers to resolve issues, leading to happier customers
2. Customer referrals: With happy customers, they will be open to sharing the app to their colleagues and industry peers
3. Customer engagement: With the potential for real-time feedback and support, you are increasing engagement not only with your company brand but also with evangelists within your company
Conclusions
While the potential for geolocation-based services is just being uncovered, I anticipate that early adopters like Morrison & Foerster will demonstrate that the risk is worth it to increase customer retention, loyalty and ultimately engagement.
What other ways can geolocation be used?
This is the sixth post in a 6 part series on how I using social media. In this sixth installment, I discuss measurement.
Measure What Counts
There has been discussion about how to measure social media and can it truly impact your bottom line. The same could be said of public relations. In the end, it's measuring what counts for your business.
Personally, I think it's important to determine your baseline measurements to gauge the effectiveness of your strategies over time. Consider keeping it simple, selecting 3-4 points to track. As you gather more information, you can better refine and expand your measurement criteria. Here are some basic points to measure:
* Subscribers, Followers, Fans: One way to track the success of your programs is by the steady growth of subscribers to your blog, followers on Twitter or fans on Facebook. Feedburner is a nice way to track subscribers to your blog or any RSS feed that you create for corporate updates, such as press releases, newsletters, etc.
* Audience Reach: The key aspect of social media is tracking "word of mouth" or the reach of your content to your key audiences.
Twitter – Tweetburner allows you to create a short URL for Twitter and then tracks who has retweeted the link or clicked on it. You can keep your stats private or public. While this is a great tool, I've found that people will create their own short URLs for the content, so you may want to actively search on your Twitter ID for possible retweet. I then add up the number of subscribers for these individuals to get a "number" regarding reach.
Online Reputation: Another way to determine reach is to track who is talking about you online. I wrote a bit about this in my second post – Using Social Media: Part 2 – Search Feeds. The added component is determining the reach of these online outlets. While ad equivalence can be used too, I'm not a fan of this method as I point out in my next bullet point.
* Incoming Leads, Inquiries: There are a couple of free tools such as Quantcast and Google Analytics that provide good detail about your incoming traffic. The key is to closely track the referring sources for the incoming leads and the conversion rates. For example, Twitter is quickly becoming a driver of traffic to my blog or answering a question on LinkedIn can lead to an inquiry about your services.
* Increased Links: Before you start your programs, take a quick snapshot of sites that link to your website. While a basic stat, this can have huge SEO implications for your site, which in turn, increases your visibility on search engines. Check to see if your efforts increase this basic stat.
* Conversation Index: Steve Boyd discusses the Conversation Index as a way to determine which blogs are successful. Basically, successful blogs are those have a more comments than posts. I would think that the same value can be applied to Twitter, LinkedIn and Facebook. The more that people interact with your company and messages, one can assume the more engaged they are with you.
Conclusion
No matter what you do, measurement has to be an integral part of your program. Identifying the key data points relevant to your business, you can better justify these programs to your executive management. And who can argue with a program that has a low cost per lead and high conversion rate for sales?
Other posts in the series:
Using Social Media: Part 1 – Microblogging
Using Social Media: Part 2 – Search Feeds
Using Social Media: Part 3 – Social Networking Sites (updated link)
Using Social Media: Part 4 – Linking Strategies
About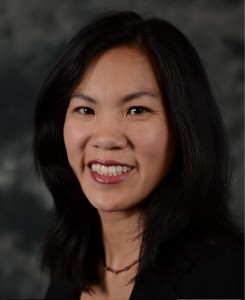 Cece Salomon-Lee is director of product marketing for Lanyon Solutions, Inc. and author of PR Meets Marketing, which explores the intersection of public relations, marketing, and social media.
This blog contains Cece's personal opinions and are not representative of her company's.
Marketing Blogs
Virtual Events & Meetings Blogs
Cisco Virtual Environments
Search Site