Browsing articles tagged with " Jeremiah Owyang"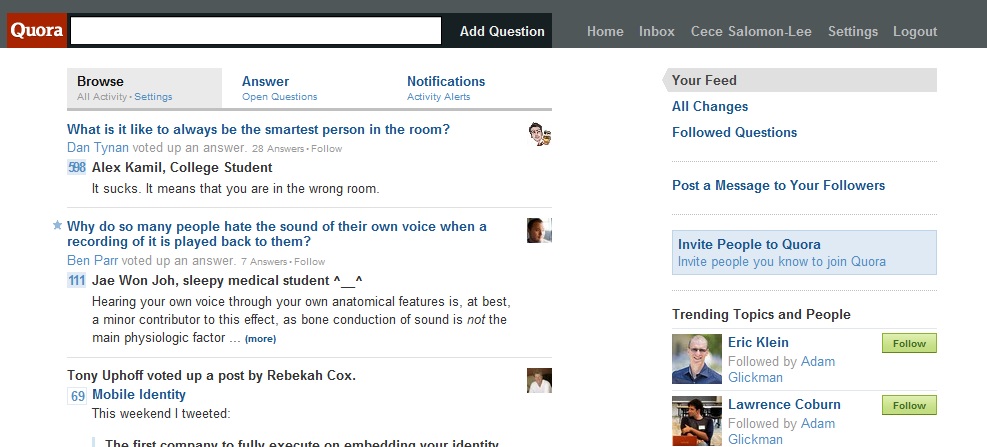 Over the past few weeks, there has been a wave of publicity about Quora, a service seeking to rival LinkedIn's popular answers service. After reading some of the coverage, I decided to check it out and was a little bit disappointed. I've actually been an active participant of an alternative service called Focus.com.  While I see the value that services like Quora can bring, I believe that most of Quora's current hype is due to it's founder and funding to date. 
Right now, I'm keeping an eye on the service and seeing if Quora delivers on it's hype.
Initial Thoughts About Quora
1. Faster Service: The last few times I've accessed the Quora site, the service was slow to load. This made finding questions, responding to them and posting quite laborious. I assume that these kinks will be figured out shortly. In the meantime, this will most likely slow the site's adoption rate.
2. Registration Required: Since Quora is fairly new, businesses are still evaluating the value of participating on Quora. Unfortunately, you have to register in order to review the content. This puts a barrier not only to businesses but also to the very individuals you're seeking to attract as subject matter experts. Furthermore, this requirement may drive the initial membership numbers; yet, the statistics will bear out how many are truly active on the site.
3. Quiz Before Asking: Before any member can post a question, there is a quiz on Quora's recommended way of asking questions. This helps create a standard expectation about what is acceptable and unacceptable; though some may be put off by the approach.
4. Social Community: An interesting aspect about Quora is how the service brings in your social graph, instantly identifying members to follow who you've previously vetted.  The community can also vote up or down topics, helping to filter out quality questions/discussions.
5. Perceived or Real Influence: Since signing up for the service last week, I already have 30 followers without much work on my side. I wonder if Quora will fall into the "more followers you have, the more 'influence' you have" issue that surrounds Twitter and subsequent "influence" ranks.
6. Technology Elite are Present: In discussing Quora to my friend, Dennis Shiao, he highlighted how questions are being answered by some of the industry's technology elite. I agree with him that this presents an interesting opportunity for members to get a glimpse into the thinking behind some of the industry's top venture capitalists, technologists and entrepreneurs.
Conclusions: Don't Put All Eggs into the Quora Basket
Quora is an interesting model where individuals can establish expertise and drive conversations around topics, brands and products. While Quora has received all the "buzz" recently, I would closely evaluate services like Quora to determine which works best for your company based on your audience, objectives and staffing resources. Once such service is Focus.com, which I've been an active user of.
Previously started as a lead generation service, the company morphed into its current incarnation in May 2010.  I'll provide my insights about Focus in my next PR/marketing/social media post.
Do you agree – is Quora a case of the PR "buzz" machine getting ahead of the promise?
Other Articles on Quora:
1. Jeremiah Owyang, Quora for Business Not Allowed, But You Should Still Monitor and Respond
2. Mario Sundar, Should I Care about Quora?
3. David Armano, Quora Underscores Need for Corporate Ambassadors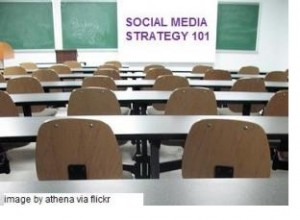 In a recent report by Jeremiah Owyang of The Altimeter Group, The 8 Success Criteria for Facebook Marketing, the group highlighted the need to set community expectations as a key component for success in Facebook marketing. I think this is not just for Facebook but something to consider as part of your social media strategy. Furthermore, this extends beyond your external audience but also should be shared with employees and supported by your executives.
 Here are key elements to consider to set the proper expectations:
1. Engagement: Be clear on how often you plan to engage via your social media outlets , as well as the guidelines for participation and behavior. In addition to incorporating the policy into your social media strategy, consider placing this on your corporate website to ensure consistency and refer back to it when appropriate.
2. Transparency: While people will engage with a brand, I strongly believe that putting a name and face to the company strengthens the connection with audiences and humanizes the company as a result. Incorporate a page that provides at least a bio and photo of contributors.
3. Purpose: Provide a clear sense of why you're engaging people with social media. Is this to get feedback from consumers, to sell something or for customer support? Not only will this minimize confusion with external audiences, but also help internal employees understand what they can reveal publicly.
4. Consistency: Once you set the expectations deliver on this consistently.
Are there other factors I missed? Let me know in the comments, and I've also embedded the full version of the Facebook Marketing Report below for your reference.
Social Media Marketing 101
1. Social Media Strategy 101: Are You Ready?
2. Social Media Strategy 101: Definitions
3. Social Media Strategy 101: Which Persona Helps Tell Your Story?
 Update: I've edited this post to provide a more objective view of social media and how it can be applied.  
This is the third post in a 6 part series on how to use social media. In this third installment, I highlight how yoru can participate in social networking sites.
Social Networking Sites
Marketers are seeking to break into several social networking sites, such as Facebook, LinkedIn and MySpace. From my perspective, there seems to be two popular models right now – create a group or fan page or participate in existing communities (what Jeremiah Owyang calls "fishing where the fish are"). The former requires dedication to manage the community and ensure that there is fresh content. The latter requires participation in a group without the onus of owning that community.
And while I believe social media should be an integral part of B2B marketing, the reality is that this takes a concerted effort and time. As such, I recommend aligning your efforts with the latter strategy until more staff or focus can be given to the former. While there are different communities to join, LinkedIn has some benefits that you should consider.
Why? I hate to say this, but frankly, of all the social networking sites, organizations can be overtly salesy on LinkedIn. I know, I know – that isn't the point. So let me be clear, I DON'T RECOMMEND THAT YOU SELL FROM THE PLATFORM. Rather, apply the same rules you would apply elsewhere – be transparent of who you are and offer valuable information. So even when others are being blatantly self-promotional, you and your company are seen as contributory. You'll see what I mean below.
LinkedIn Specifics
With that said, here are the aspects of LinkedIn that I recommend:
LinkedIn Answers: Monitor questions for topics that are you related to your company. When appropriate, respond to relevant questions to position you and your company as an industry expert. There will be instances when you can recommend your company as a prospective vendor. Again, you have to be careful that you're not too self-promotional as your answer can be flagged as inappropriate. Overall, LinkedIn Answers is a good way to provide brand awareness for your company. And since LinkedIn Answers are searchable, your responses may appear in Google search results.

Groups: There are numerous groups within LinkedIn. It's important to research specific groups as some may be more self-promotional than others. I recommend seeking groups with audiences that are relevant to your company and have good participation by its members. Once you join a group, monitor the discussions before fully participating.

Group Questions: Like LinkedIn Answers, each group incorporates this same functionality. By responding or asking questions in a group, you position your company as an industry expert to a targeted audience relevant to your business.

News: You can submit article links, like Facebook Share, that are relevant to the groups. In addition to blog posts, you can submit general news articles that mention your company or are relevant to your industry. You can also consider submitting submit press releases. While this is slightly self-promotional, make sure the article or press release discusses a larger trend of interest to the group.

Events: LinkedIn recently introduced a way for members to post events. If you have a webinar, in-person seminar or other gathering that you want to promote, LinkedIn events is a place to promote it. What I liked is that they have an option for "virtual events" as well. You can then share this event with your contacts as well as be searchable by other LinkedIn members. One drawback, in case you have to cancel the event, there doesn't seem to be a way to delete the event.
Conclusion
Overall, LinkedIn is a great way to position your company or company spokesperson as an industry expert, while increasing brand awareness with key audiences. Your participation can also have competitive advantages as well when potential sales leads are researching and evaluating vendors.
And if you or a colleague is dedicated to moderating an online community, consider setting up your own group. HubSpot has done an excellent job at setting up their own group, moderating the group and finding synergy with their Facebook presence as well. 
Other posts in the series:
Using Social Media: Part 1 – Microblogging
Using Social Media: Part 2 – Search Feeds
Last night, I went to a panel discussion hosted by the Horn Group and Girls In Tech. There was a star line-up of panelists: Jeremiah Owyang of Forrester Research and Web Strategist Blog, Kara Swisher of WSJ and All Things D, Susan Etlinger, VP of Horn Group and Sam Whitmore of Media Survey as moderator. 
The topic provided attractive with over 200 people packed in the Horn Group offices on Howard St. Considering the economic news swirling around me, the event reminded me a bit of the heady dot.com days – yes, I really am that old Virginia! Twitter tag #prblog.
Sam took a quick poll of the audience before commencing with the Q&A. It seemed the audience was 60% PR folks, 20-25% Horn Group clients and other people interested in the topic from marketing/social media backgrounds.
PR is not dead. It's being reborn" – Sabrina Horn
To summarize some key quotes from the evening (may not be verbatim quotes but gives you a gist of the meaning):
Jeremiah:
"Join community to reach audience regardless of your client. Has the relationship with person I want. It's the influencer model"
"Opportunity for PR is to listen. People will tell you what they're interested in"
"Extend the value of PR – currently don't have the key skills to do that"
"Big opportunity to use these tools to grow beyond corporate communications"
"Use the tools to repair the PR reputation"
Kara Swisher – I've read her blog and hearing her in person was definitely more amusing!
"PR people are so easy to get upset. Stop being reactive to the bloggers who are doing this to be trafic whores"
"War with PR is not important. There are more important things to fight over like Proposition 8"
"Focus on people with amazing relationship with people"
"Give me news and trends that your company represents. Trends with interesting products. Needs real news. Interesting figures and thought leaders. Cool interesting products that people are using. Weird stories will also get me too."
"Nothing new – it's about how good is the product. Don't PR crap products"
Susan
"PR is about creating replicable processes, but replicable process can get you in trouble."
Audience Comments
"Relationship economy. Release is so narrow"
"[PR's] obligation is to not put out shit out there. If it has value, then yes. Otherwise, no." Charlie Cooper, CNET
"How to leverage important bloggers to help with news" – Razorfish
"How does PR practitioner leverage these tools to help business"
"Performance based payment and measurement like a media buy – will an agency risk this?"
Deja Vu – Didn't we see this 10 years ago?
For a panel discussion that promised to be titillating, I found that it was bogged down by semantics of PR's role in the social media landscape versus how the industry, as a whole, can better address this as a core competency. These were the same discussions that occurred 10 years ago with the rise of the Internet, which ironically was referenced when Sabrina pulled out a big, black binder about the impact of the Internet on PR.
 To paraphrase one audience member, what we're referring to – Twitter, blogs, wikis, etc. – are just communications tools. In 5-10 years, these may be commonplace ways to communicate with your audience. While the panel was informational for those new to PR or currently struggling with PR's value within the larger marketing and social media landscape, I think the panel didn't truly delve into the question of the evening – Will Social Media Kill PR.
My Perspective?
I was sitting in the balcony where most of the social media folks were sitting. When Sam turned to us and asked if our issues were being addressed, frankly they weren't and I said so (yes, that was me voicing the need to get beyond PR and talk about how this fits into the larger marketing arena). Unfortunately the discussion turned back to the basics of PR 101 meeting social media.
In the end, I agree with Jeremiah. PR has a window of opportunity to leverage social media to build higher business value with customers and companies beyond a corporate communications capability. When the discussion evolves from which outlet can you get me in to one of what audiences do you want to influence, then PR will have a seat at the table.
But hasn't this always been the crux of the problem for PR from the beginning? Does social media really change that conversation? I don't think so. What do you think?
Update:
– Jeremiah's post about four biz opportunities for PR agencies
– Kara Swisher's post about the panel
– Sam Whitmore's summary
– Charles Cooper's take – PR is Killing PR, not Social Media.
– While Lewis Green wasn't at the panel, he brings up a good point about the value of social media in PR.
– Horn Group's summary about their Is Social Media Killing PR panel.
– Jennifer Leggio's post at ZDNet. I think she summarized it perfectly: " too much focus on dialing for dollars and not enough focus on making PR stretch to support real business initiatives."
I will probably not be the first or last person to blog about this interesting experiment that Jeremiah Owyang initiated today. Check out the original post about conversations shifting to Twitter. 
In a post, he invited people to leave their Twitter link in the comments to increase more introductions in the community. 
At the time of this writing, there were over 160 200 comments and on Techmeme. I've only reviewed maybe 40 of the comments so far.  
My main problem had been how to find people to follow. By listing my Twitter account in the comments, I have been able to increase the number of people I'm following and seen more people following me. Don't worry – I will try to add everyone who is following me tonight as work is getting in the way. 
In the end, experiments like this are demonstrating the power of Twitter and other new tools that facilitate conversations.
 technorati tags: Jeremiah Owyang Social media Twitter
del.icio.us tags: Jeremiah Owyang Social media Twitter
icerocket tags: Jeremiah Owyang Social media Twitter  
About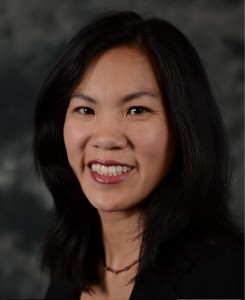 Cece Salomon-Lee is director of product marketing for Lanyon Solutions, Inc. and author of PR Meets Marketing, which explores the intersection of public relations, marketing, and social media.
This blog contains Cece's personal opinions and are not representative of her company's.
Marketing Blogs
Virtual Events & Meetings Blogs
Cisco Virtual Environments
Search Site