Browsing articles tagged with " Virtual Events & Meetings Blogs"
There has been an interesting discussion on Focus regarding the role of social integration within the virtual platforms. As social media and networking is an integral part of an overal virtual events strategy, including marketing, audience engagement, and event promotion, I wanted to higlight some of the key points mentioned that should be part of your checklist.
Note: Unless indicated, comments are based on my experience going into various platforms and are not indicative of any one platform's pros/cons:
With any new initiative, the ability to tie results to objectives is instrumental for receiving continued stakeholder support for the initiative. While many vendors tout their capabilities to provide detailed statistics, the question is how to go beyond raw data to actionable data. Furthermore, how easily can I take this data to develop the right reports and analysis for my stakeholders.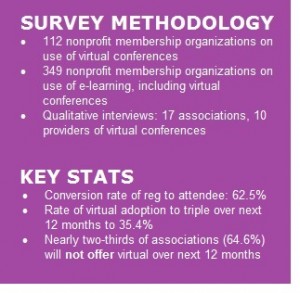 Virtual events emerged as a technology for meeting professionals and event marketers to consider during the recession. Until now, most of the media coverage and research has been focused on how corporations and publishers have implemented this technology for their respective objectives. A new report, "Association Virtual Conferences: The State of the Sector," was published in January 2011 that provides the first look into the current use and potential use of virtual conferences within the association and non-profit space.
The report is published by Tagoras, which helps organizations to leverage online learning to grow revenues and engage customers. After reviewing the review, three things emerged for me: generating revenue is a focus; growth within in the association's space is still nascent; and whether or not virtual conferences will lead to perpetual environments.
"Simply throwing up a virtual platform and attempting to replicate what happens in a place-based event – many of which are not particularly engaging or effective from a learning standpoint – is a recipe for failure. There will be a learning curve as both association educators and association learners grapple with how best to take advantage of virtual platforms, but I have little doubt that they will play an important role in association education in the coming years." – Jeff Cobb, co-founder of Tagoras
Generating Revenue Is a Focus
The report provides interesting stats that highlight that virtual conferences are no longer a novelty for associations and non-profits. While driving audiences to the virtual conference may not be an issue for those who have done virtual conferences, the question of generating revenue from virtual conferences is ever present.
The business models range from charging virtual attendees similar prices as for physical conferences, to incorporating exhibiting and sponsorship opportunities to virtual conferences. At this juncture, many are looking to the physical world analogy to develop revenue opportunities for virtual conferences. I argue that this analogy may inhibit creativity to create experiences that are truly unique to online audiences; thereby discovering new ways to monetize the online conference.
Rather, organizers will be challenged to drive traffic to specific sponsors, deliver better insights into online conversations, and better match exhibitor with potential customers:  
"For many exhibitors, however, the different type of interaction that occurs in a virtual booth can feel less productive, and the nature of the environment also increases the likelihood of attendees ignoring exhibits altogether. On the other hand, virtual exhibit halls do offer exhibitors a new opportunity for exposure, and because virtual conference platforms are database-driven applications at their core, there is the potential for collecting valuable data about prospective customers. Whether these benefits outweigh the challenges for most exhibitors remains to be seen."
Virtual Has Room to Grow
According to the report, the authors state that the rate of adoption of virtual conference will triple in the next 12 months:
"In a survey conducted from November 18 to December 23, 2010, 349 nonprofit membership organizations responded to a question about whether their organization currently delivers any form of instruction via computer, including a virtual conference. Only 8.6 percent, or 30 organizations, indicated having already offered a virtual conference.
While the percentage of organizations that have already embraced virtual conferences is relatively small, association use of this format appears poised to grow significantly in the coming year—among a subset of 257 organizations, 11.7 percent have offered a virtual conference, and 23.7 percent indicated that they plan to implement one within the coming 12 months. In other words, use of virtual conferences among this group may triple in the coming year."
While the "rate of adoption" will triple within the next 12 months to 35.4%, nearly two-thirds of associations (64.6%) have no plans to incorporate virtual conferences. From my perspective, this indicates that 1) more education is required about the benefits of virtual, 2) associations have no intention of going virtual or 3) associations are still struggling to recover from the recession and virtual is not part of the equation at this time.
Perpetual Environments: Pro or Con?
While not highlighted as a challenge to date within the report, there was indication of how associations may leverage the virtual environment for ongoing activities with their audiences, leading to perpetual environments. I anticipate this to be an ongoing issue that many organizations – both associations and corporations – will face. Organizations that have already developed communities via social media or on their own website are now creating an additional "community" through the virtual environment.
"Representatives from two other associations are working on ways to attract people back into their virtual environment for activities throughout the year. 'Once it's built, it's just there,' said one of these interviewees, 'and it's very inexpensive to host it for a full year.'"
While inexpensive to host the content after the initial event, continuing the virtual conference as a perpetual environment or community presents additional considerations such as proper staffing to oversee the environment, consistency and integration with existing communities, alignment with corporate objectives, and more.
According to Jeff Cobb, co-founder of Tagoras, "Perpetual environments appear to be an emerging trend among some of the early adopters in the corporate world – IBM, for instance – but I have so far spoken to only one association that is seriously considering it. That said, I think it makes a great deal of sense for organizations that hold multiple place-based events and/or Webcasts throughout the year.  A perpetual virtual environment has the potential to become a valuable extension of their bricks and mortar infrastructure – or, for the increasing number of associations that operate virtually, it can become their main infrastructure. I don't expect to see associations rush to embrace this option, but it has enough common sense to it that I would be surprised if something along these lines did not emerge over time."
Conclusions: Achieving Full Potential of Virtual
While written for an association-based audience, the report provides useful information for organizations regarding virtual conferences from the typical features of a virtual conference to varying case uses. In addition to the number of graphs on areas about (include the items), the report provides lessons learned from early adopters and 20 top tips about virtual events.
When asked about the role of virtual conferences for learning, Cobb responded, "The most obvious is that they have the potential to increase access to education. As we point out in the report, most associations reach well under a majority of their members through place-based events. Virtual events increase the possibilities for reaching and delivering value to members who may currently be under served."
And that is the full potential of going virtual.
A common thought is that the existing physical event team can "add" virtual as an additional responsibility. But in a recent post, Dannette Veale of Cisco refuted this approach, advocating that a virtual team be in place to manage your virtual event. Another misconception is that your virtual event vendor will provide the necessary tools to smoothly proceed with your event.
Also, don't estimate the amount of collaboration that will take place. Have a systematic approach to capture these conversations, collaborations and decisions is key to minimizing misunderstandings and mistakes for your event. Consider using a centralized location for this. If the vendor doesn't have an intranet/extranet, consider using something like Google Docs (share documents) or PBWiki (share docs and track changes with wiki functionality).
In the second in a series of posts, here are questions to consider when working with your vendor:
 

1. Do you have a handbook outlining all the steps for planning my event?
2. What is the typical timeline and milestones that I need to be aware of for this event?
3. Do you have a project timeline that we can mark our progress against?
4. What is the process for collaborating and documenting changes/decisions for the virtual event?
5. Is there a central place for our respective teams to collaborate?
6. I have never done a virtual event before. What are the key differences between planning a similar event virtually versus in person?
7. What team are you putting in place to help me with my virtual event? What are their roles and responsibilities?
8. What is the ideal virtual team that I should have in place? What are the roles and responsibilities for each person?
Other Posts In the Series:
1. Virtual Event Vendor Checklist Part 1: Event Support & Experience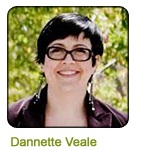 Following previous interviews with key virtual event vendors, I interviewed Dannette Veale, Virtual & Social Technology Strategist, Global Sales Experience (GSX) of Cisco, to get an end-user perspective about virtual events and what technology innovations we can anticipate. Now a member of the Cisco Global Sales Experience team, Dannette previously produced the global Cisco Live and Networkers conferences as hybrid events. She will be speaking at the Virtual Edge Summit on future trends for virtual and hybrid events on January 12, 2023 from 2:15 – 3:00 pm.
In Part 1, we discussed virtual events, the pros and cons of being an innovator, and how Cisco leveraged several technologies for the Cisco Live hybrid events. In part 2, to be published next week, Dannette shared her predictions for events in 2011. Hint: it's about mobility. Please leave any questions you have for Dannette in the comments.
How are virtual events being leveraged within Cisco?
Cisco leverages virtual in many ways.  We have flagship events like Cisco Live, which is annual user event with several points around the world, and Partner Summit event, which is our single point of activity for partner communities. And there are internal events, like the Strategic Leadership Offsite (SLO) and GSX (Global Sales Experience). We see virtual as a way to most cost-effectively take event activities to a mass audience.
For majority, Partner Summit and Cisco Live events around the globe, are physical events that are hybrid to extend the activity to a worldwide audience. There is some unique programming for virtual audiences. We don't clone or repeat everything at physical event. We look at what will translate to the virtual and opportunities to create an experience that can't be done at the physical event.
For example, keynotes are always presented at Cisco Live and taken to virtual audience. Virtual provides a unique or intimate experience for a post keynote chat session. Keynote speaker goes into a room to have a dialogue with the audience for questions that came up during the keynote. We leverage a space that the speaker can do an intimate chat with 10K people on site in Las Vegas and 30k+ people attending virtually.
That is where we see how virtual offers opportunities that you can't facilitate at the  physical.And some in the physical won't translate well into virtual. We have a technical solutions clinic on site at Cisco Live for attendees to visit on an ad hoc basis to work with Cisco support regarding deployment issues. In the technical solutions clinic the primary source for sharing information is a white board, this format is difficult to translate virtually. Therefore we have a modified version for virtual that we call the Ask the Expert Center, providing this on a schedule basis versus intervals. When you have 10-15K onsite, there will be plenty of foot traffic to the technical solutions clinic. In the virtual environment, the open-ended aspect doesn't work as well and virtual attendees respond better with scheduled activities, such as ask-the-expert activities.
You're incorporating several innovative technologies, such as augmented reality and QR codes. What are your recommendations for others considering using technology for their events? Pros and cons?
We haven't rolled out some of the technology you mentioned. We had augmented reality (AR) featured at Cisco Live Europe 2010 with keynote speaker, Prof. Bruce Thomas, and used some AR tools on stage to demo power. But we haven't done what I feel we can do to integrate this on the tradeshow floor.
We also haven't done a lot with QR codes, and I have blogged a lot about how to leverage it for an event. Rather, we've leveraged more social tools like geo-location with Foursquare and DoubleDutch (white-labeled) for Cisco events.  We've also used Ustream with Facebook and Twitter. 
While we haven't done much for events yet, we can push the envelope with AR and I would love to see a on site and virtual blended scavenger hunt leveraging QR codes, but not at this time.
What are the pros or cons of doing this?
Pro is that we were first – a trailblazer for virtual event opportunities in general. Use that as the specific pro and con for technology.
As an early adopter, we can have a much more dynamic effect on the evolution of that industry and technology offer. There is something to be said about partnering with the companies on these technologies to evangelize the business prospect regarding what we need from these technologies. The earlier we participate on this, the more influence we can have on their long-term road maps.
Con is that sometimes things don't work. Once we've done it and publicized, we have to be ok with saying that it didn't work. For example I have some blogs about gaming implementation for CiscoLive 2010. Some goals that were on the scope couldn't' be realized within the timeframe of deployment. We had to be ok with saying that we didn't meet all the objectives and met 50% of them, while pursuing the other later. That can be perceived as a con – I don't personally see this as a con and think it's about being a good thought leader in the space. 
Dannette Veale's Bio
As the virtual and social technology strategist for Cisco's Global Sales Experience (GSX), Dannette Veale lives and breathes new media. Prior to her role on the GSX team Dannette lead the creation and drove the strategy for the award winning Cisco Live and Networkers virtual program. Dannette has also managed global online and virtual programs for a variety of Cisco groups; most notably emerging markets. When she's not evangelizing the use of virtual environments to extend the reach of an event and broaden the overall audience demographic participating, you'll find Dannette engaged in such varied hobbies as producing streaming media, designing Web sites, or watching classic films such as Blade Runner. Outside of her daily immersion in the bleeding edge of collaborative media, Dannette's also been known to partake in such real world activities as gardening, baking, and knitting;while watching cyberpunk anime, of course.
A few weeks ago, Dennis Shiao of It's All Virtual queried me on my top predictions for virtual events in 2011. And then this same question appeared on Focus, a network for business professionals to respond and answer to critical business questions. Based on my responses to these, here is a summary of my top three predictions for the virtual events industry.
Market Consolidation Ahead
While there are several known players in the market – 6Connex, Inxpo, On24 and Unisfair – there has been a proliferation of new players and those who have gained mindshare in the industry, such as Expos2, Imaste, Stream57, VisualMente, Ubivent, and others. While this is great for the customer – more choice and usually a decrease in price – I believe this will lead to some players being bought by larger organizations, merging to bring together complimentary strengths, or even some disappearing from the industry all together. No matter how, we will begin to see some consolidation within the industry.
Build Me a Better Playground
I believe the industry players remaining on the landscape will begin building out an ecosystem of services to plug-and-play on the platforms. While each provider has an "open API" the question is at what point will the providers a) begin developing apps to harvest the potential of the data and platforms. This includes connecting to Salesforce or truly automating the marketing aspect of virtual. And b) promote a developer community to build third-party apps for its customers. I envision the latter being more of an end of 2011/early 2012 development.
Simplified Web Experiences
 This may seem contradictory to point 2, but I think we're going to see a move away from the current way we experience virtual events – a login to enter a space with different rooms, like an auditorium, lounge, etc. Rather, I think we will see a return to a "website-like" experience. Everything is on a single page with a window for live streaming video and different widgets for engagement, games and other applications can be added or deleted as needed. And with an OpenID model, I can move freely to and from these "virtual events" without re-entering my login/password. Look for someone like Facebook to move more into this space in 2011.
Do you agree or disagree? What are you top predictions?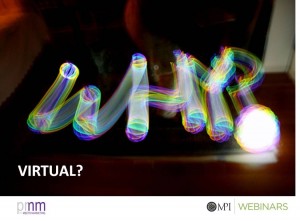 I recently presented a webinar on "Dispelling the 5 Myths of Going Virtual." My presentation slides are included below and an archived version of the webinar will be available on the MPI website shortly. Free to MPI webinars, the on-demand will be available for $20.  The webinar covered these top myths, accompanying case studies and relevant industry stats:
1. Virtual Will Cannibalize My Audience: Case study of American Payroll Association
2. Virtual Will Cannibalize My Exhibitors/Sponsors: Case study of GE Healthcare
3. Co$t$ Too Much: Case study of IMTS
4. Only for the Technically Savvy: Look at technology pace of technology adoption
5. Not as Good as F2F: Case study of CiscoLive Virtual
6. BONUS Myth: No One is Doing It
About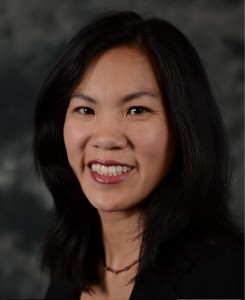 Cece Salomon-Lee is director of product marketing for Lanyon Solutions, Inc. and author of PR Meets Marketing, which explores the intersection of public relations, marketing, and social media.
This blog contains Cece's personal opinions and are not representative of her company's.
Marketing Blogs
Virtual Events & Meetings Blogs
Cisco Virtual Environments
Search Site