What three mistakes are you making with video marketing?
I recently read a video marketing report by Forrester, Branded Video Marketing Success Starts With Customer-Centric Distribution (Samantha Merlivat, October 16, 2022). While the report was focused on B2C there are insightful points relevant for a B2B audience. As with anything not knowing your strategy, objectives, goals and audience for any program tends to contribute to less successful programs.
Per Forrester the days of "organic viral" videos have past. Today creating good video content isn't enough – it also requires a clear distribution plan aligned with your goals and audience. Here are three ways you're incorrectly distributing content and how to overcome them to drive viewers.
Mistake #1 – Putting everything on YouTube
While YouTube has tremendous influence and contributes to Google search, you may be missing the mark in reaching your targeted audience. Understanding who your audience is, where they consume content and what your desired action or result is is important for a successful video distribution plan.
For example:
YouTube to increase your organic ranking as part of a larger SEO program
Industry publication to drive thought leadership and possibly lead generation
Corporate website to nurture leads and drive conversions
Mistake #2 – Producing for large screen only
One of the interesting findings is the platform for consuming videos. Per the Smart Insights blog post – Mobile Marketing Statistics 2015, mobile has reached the tipping point amongst consumers over desktop.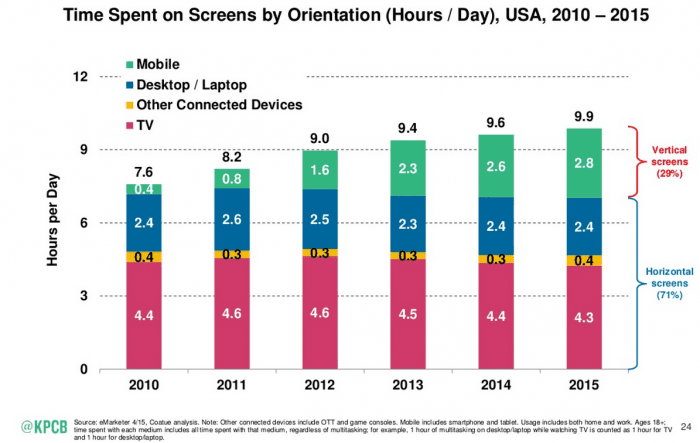 If you're only thinking about desktops and laptops, you may be missing a core way your prospects and customers are finding, getting and watching content.
Mistake #3 – One video fits all
The time and, for some, the cost of producing a single video can be considerable. So the focus is finalizing the video and getting it out there. However, as mentioned above, it's important to clearly outline how the video will be, who will it reach, and where it will be watched. Once you've answered these questions, you can plan your video strategy during the story boarding phase to leverage one video for multiple uses, such as:
5 second preview for YouTube video ads
15 second interstitial on a media site
60 second product demo.
Then you can create these separate assets as you produce and edit the video vs going back, re-story boarding and producing additional videos. In the long run, you'll ultimately save time and money.
Conclusion – Don't overlook video distribution
Video marketing is very similar to content marketing. With each, you have to consider how and where people will find, view and possibly share your content. By keeping this mind during the planning phase, your able to maximize your video marketing program in terms of budget, time and results.